The first referendum on the Trump era will happen today in Kansas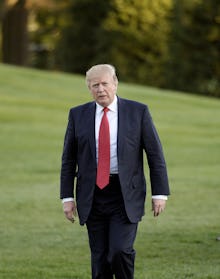 Voters in Kansas's 4th Congressional District will head to the polls for the first congressional election since Trump's presidential victory in November. The race to fill the seat once held by Trump CIA Director Mike Pompeo has largely been ignored by the national press because of Kansas' deep-red conservative politics — Trump won the district by 27 points — until, that is, the Democrat surged.
Over the last few weeks, signs indicate that Democratic candidate James Thompson, a Bernie Sanders-inspired political outsider, might have a shot. Early voting among Democrats is way up in the district, and Thompson has raised an unusually large amount of money through grassroots fundraising — thanks in no part to the national Democratic Party.
As a result, Republicans are in full-on panic mode. Over the past few days, the GOP has injected Republican candidate Ron Estes' campaign with a last-minute infusion of cash, dispatched firebrand conservative Sen. Ted Cruz (R-Texas) to campaign in the small Kansas district and recorded robocalls by both the Trump and Vice President Mike Pence — all to nail down what should have been a lay-up.
No matter how the race turns out, it stands as a sign of how powerful anti-Trump sentiment can be, even in unexpected places. And the early special elections to fill seats vacated by Trump's political appointments are just getting started.
If Thompson loses by a small margin in deep-red Kansas, it'll be a bad sign for Republicans in next week's special election in another patch of political red, Georgia's 6th Congressional District, where Hillary Clinton lost by just one point. What's more, it will be a model for how Democrats run campaigns against Trump in the 2018 midterm elections, when, for the first time in 10 years, Republicans don't have Barack Obama or Clinton to run against.
The Kansas race is also a bellwether for the future of the Democratic Party in red states. The district happens to be the headquarters of the Koch brothers' corporate goliath, Koch Industries, and Thompson is running on an anti-billionaire message. If a progressive Berniecrat can pull off an upset, it will lay out a potential road map for how Democrats can win in other deep-red states.
Related: Wyoming is a longer-shot for Democrats than even Kansas, but it's still noteworthy that the Bernie Sanders wing of the party has mounted a takeover there too, ousting Clinton loyalists from their positions in state party offices.
Highlights
Today: Special election in Kansas' 4th Congressional District
More: Secretary of State Rex Tillerson heads to Russia to meet with Vladimir Putin's government
Even more: Jeff Sessions visits the U.S. and Mexico border
Trump's schedule: Trump will meet with the White House envoy to Syria to talk about... well, Syria, and maybe even hash out a coherent plan for the region.
The Daily Show's Hasan Minhaj to host the White House correspondents' dinner
Comedian and Daily Show "Muslim correspondent" Hasan Minhaj has been selected to host the annual White House Correspondents' Association dinner, according to Politico. The dinner is a gathering of elected officials and the fourth estate, which traditionally features a professional comedic roast of Washington politicians and the press followed by a short comedy routine performed by the president himself.
This year, however, Trump had announced he will not be attending the April 29 dinner, perhaps still smarting from the infamous roasting he got from then-President Barack Obama and Seth Meyers in 2011. In a statement, Minhaj told Politico, "It is a tremendous honor to be a part of such a historic event even though the president has chosen not to attend this year. SAD! Now more than ever, it is vital that we honor the First Amendment and the freedom of the press."
Trump on pace to outspend Obama's 8 years' worth of travel in just one year
Trump's travel budget has been the subject of much scrutiny ever since the public first learned how much they were paying to shuttle him to and from his Palm Beach, Florida, resort, Mar-a-Lago. Now a new report claims Trump is on track to outspend Obama's travel budget for his entire presidency in just one year. It's a bit ironic, given all the times Trump lambasted Obama for taking a vacation.
Ivanka Trump influenced her father's decision to strike Syria
In a recent interview with the Daily Telegraph, the president's son Eric Trump said he is "sure" his sister Ivanka played a role in their father's decision to strike Syria. "Ivanka is a mother of three kids and she has influence. I'm sure she said, 'Listen, this is horrible stuff,'" Eric Trump told the Telegraph. Ivanka Trump, who prior to becoming an adviser for her father ran a fashion and jewelry company, has no foreign policy or military experience. Whether Eric Trump's statement about her involvement is true, the fact that a member of the Trump family thinks Trump is taking advice from his unqualified children on sensitive foreign policy speaks volumes.
News and insight you cannot miss:
A former U.S. ambassador to Syria said Syrian President Bashar Assad likely to keep using chemical weapons (Mic)
Rhode Island could be the next state, after New York, to make college tuition free (CNN)
A federal judge tossed out Texas' voter ID law, saying the "discriminatory purpose" was clear (Mic)
Here's what Donald Trump's National Security Council shake-up means for his foreign policy (Mic)
A local election in Illinois is going to be decided by a coin toss (Huffington Post)