This tote bag mocking terrorism landed retailer Romwe in hot water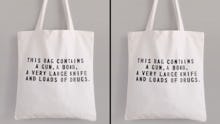 Tote bags have become the go-to accessory for anyone trying to make a statement, whether it be about loving books, feminism or simply wanting to offer the world an encouraging sentiment like "Look on the bright side." 
It is not usually the place where you expect to see a statement mocking terrorism and security screenings. But that's exactly what this tote bag, sold by online retailer Romwe, is doing. 
On a plain canvas tote bag, it reads: "This bag contains a gun, a bomb, a very large knife and loads of drugs." 
As of 10 a.m. Eastern on Tuesday morning, the bag is still on sale for $9.99, down from its original price of $22.99. 
Given reports that Americans are fearing yet another terrorist attack at levels on par with the days after 9/11, paired with the fact that there have been more than 200 school shootings since 2013 and more than 30,000 Americans are killed by gun violence every year, this bag has appeared at exactly the wrong time. Not that there would ever be a right time to make light of terrorism and security screenings at places like airports and subway stations. 
It comes across as especially offensive given that this statement, joking that you have a bomb or gun in your bag, is on something as simple and as typically lighthearted as a tote bag, something typically worn while one is out shopping or commuting to work. 
Joking about having any kind of weapon on you, and wearing it like it's a cute accessory, is the opposite of cute and funny. 
The one question we keep on asking ourselves: Who approved this?
Mic has reached out to Romwe for comment.