Why is Claire Foy leaving 'The Crown'? The surprising reason for her departure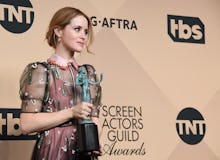 The times when being a young, beautiful actress is a detriment to one's career are few and far between. But for Claire Foy, this is one of those times. The star of Netflix's The Crown — who has risen to international, award-winning stardom playing Queen Elizabeth II — will depart the acclaimed series after its second season. The reason for her departure? She's just too young to play the part. 
Written by Peter Morgan, The Crown dramatizes Elizabeth's life, reign and marriage to Prince Philip, who is played by Matt Smith. The first season covered the years 1951-55, and the duo will return for the second season, which depicts the late '50s and early '60s. 
A third season has not been confirmed yet, but if Netflix renews the series, the major characters will be recast to reflect their ages. Morgan told ScreenDaily, "If we do [a third season]... we'd probably need to think about the issue of recasting everybody and so those conversations are happening now and I couldn't tell you where we'll come out."
Rather than age the young cast with makeup and prosthetics, the series would cast different actors to play the monarchs at different ages. "I feel that when we reach 1963-64 we've gone as far as we can go with Claire Foy without having to do silly things in terms of makeup to make her look older," Morgan said. "She can't help the fact she's as young as she is."
The news was not a surprise to Foley, who told People, "We always knew when we signed up. And also not to be funny, but it's also a real plus. As an actor, there's nothing worse than the sound of 'seven years.' I'm sure to some people it sounds amazing, but to us it's like, seven years of playing the same person? And this is a tough job, you know? It's long, a good nine-monther. And that's a lot of your life that you sign over to it. I'm going to miss it terribly. But I just can't wait to see where it goes. I just can't wait."
Season two of The Crown is expected to be released on Netflix in November 2017.
Mic has ongoing coverage of The Crown. Please follow our main The Crown hub.