Eric Trump thinks nepotism "is a beautiful thing"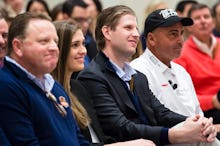 Nepotism, by its very definition, smacks of entitlement, abuse of power and unfair advantages. But Eric Trump still thinks the whole thing sounds "beautiful."
In an interview with The Telegraph published Monday, the second son of United States President Donald Trump said that his and his siblings' swift ascensions within the ranks of their father's businesses were purely the result of logical decision-making and strong familial bonds. How could that possibly be a bad thing?
"You trust the people who are closest to you," he said. "Who is he going to trust most to run a company? He is going to trust somebody who he trusts implicitly."
"Is that nepotism?" Eric Trump asked. "Absolutely. Is that also a beautiful thing? Absolutely. Family business is a beautiful thing. The same applies for Ivanka. Ivanka is by his side in Washington."
If Eric Trump is at all aware of the intense ethical scrutiny under which his sister Ivanka Trump's role within the president's administration has come within the past several months, he does not reveal it.
During the interview, Trump also noted that he believes family members are more likely to be honest with the president than some duly appointed yes men who will "say yes just because you happen to be the boss."
His comments come on the heels of a separate interview with Forbes published April 4, during which the younger Trump acknowledged getting access within his father's administration due to nepotism, but argued that he wouldn't be privy to those same advantages if he and his siblings weren't competent. 
"We might be here because of nepotism, but we're not still here because of nepotism," he said. "You know, if we didn't do a good job, if we weren't competent, believe me, we wouldn't be in this spot."