United Airlines Response: What has United said about the viral "re-accommodation" video?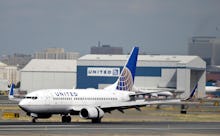 United Airlines has responded to the shocking viral video of a passenger being bloodied and dragged off a plane from Chicago to Louisville — by blaming the passenger.
In a letter to employees of the airline Monday, CEO Oscar Munoz wrote that the passenger had "defied" Chicago Department of Aviation security officers after being randomly selected to leave the overbooked flight, and that employees had "followed established procedures" in the incident that left the man bleeding from the mouth, saying, "Just kill me."
Munoz wrote, in part:
As you will read, this situation was unfortunately compounded when one of the passengers we politely asked to deplane refused and it became necessary to contact Chicago Aviation security officers to help. Our employees followed established procedures for dealing with situations like this. While I deeply regret this situation arose, I also emphatically stand behind all of you, and I want to commend you for continuing to go above and beyond to ensure we fly right.
The letter echoed a statement by Munoz the company released on Twitter Monday after video of the incident went viral.
"This is an upsetting event to all of us here at United," Munoz said in the statement. "I apologize for having to re-accommodate these customers."
Munoz, who had been named PR Week's 2017 communicator of the year in March, has been criticized for his response to the incident, and United stock fell on Tuesday morning.
By Tuesday afternoon, Munoz had changed his tone and released a new statement that called the incident "truly horrific" and promised a "thorough review" of airline policy by the end of the month.
"Like you, I continue to be disturbed by what happened on this flight, and I deeply apologize to the customer forcibly removed and to all the customers aboard," Munoz said in his Tuesday statement. "No one should ever be mistreated this way."
"I want you to know that we take full responsibility, and we will work to make it right," Munoz continued.
In Monday's letter to employees, Munoz said the passenger became "disruptive and belligerent" after he was asked "politely" to deplane and had to be physically removed from flight 3411.
While he said he stood behind the employees in that letter, Munoz concluded, "There are lessons we can learn from this experience."
"Treating our customers and each other with respect and dignity is at the core of who we are, and we must always remember this no matter how challenging the situation," he wrote.
April 11, 2017, 3:47 p.m.: This story has been updated.