Hillary Clinton models the shoes Katy Perry designed in her honor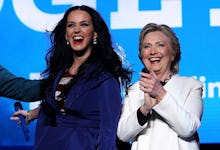 Pantsuit aficionado, rocker of black leather jackets and two-time presidential hopeful Hillary Clinton can now add model to her esteemed resume.
On Monday evening, singer Katy Perry shared a low-resolution Instagram post of Clinton, wearing a metallic balmacaan, arms extended, rocking "The Hillary," one of the styles from Perry's recently dropped namesake shoe collection.
Fans of both women reacted with glee. "LOOK AT MY PRESIDENT EVERYONE," one user wrote. "I'm a man and I want to wear this!" commented another.
Perry was an outspoken advocate for Clinton throughout the 2016 election cycle. In June 2014, she offered to write Clinton a theme song for her campaign.
Perry went on to join Clinton during several stops on her campaign tour in 2016, even singing at the Democratic National Convention back in July.
The suede pump, which is a 3.5" heel, is available online for $139 in seafoam green and pink (the color Clinton herself wore in the photo).
Clinton wouldn't be the first of her family to earn the title of model. On April 5, Clinton's nephew Tyler quenched the internet's thirst when it was announced that he had signed with IMG.
Now all we need is a full-on campaign starring them both. Here's hoping.
Corrections: April 11, 2017