'Dear White People' Review: Netflix's adaptation of Justin Simien's film is a home run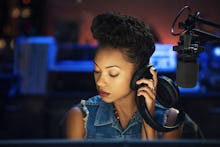 When Justin Simien wrote Dear White People, his 2014 satire about racism at Ivy League schools, he got remarkably close to saying something truly special. In a relatively short film, he dug into racism, colorism, the limits of satire and parody, blackface, intersectional identity, queerness and interracial dating. From a pure ambition level, it was a remarkable feat.
Frankly, considering all that was on his plate, it's impressive Simien turned out as good a film as Dear White People is. But there was something that felt incomplete about that movie — like Simien didn't quite get to explore all he wanted to. Luckily, Simien gets another shot with the Netflix adaptation of Dear White People, out April 28. Good news: It's even better than the movie.
Dear White People is one of the most dramatically fulfilling shows of the year, one that never loses its sense of humor. It's smart, perceptive, and deeply conscious without becoming preachy. It already feels a bit destined to fall under the radar, coming on the heels of a cascade of new TV in April, but it shouldn't. This is one of the most urgent, powerful series on TV right now.
It's a bit difficult to write about Dear White People ahead of its release, largely because of an embargo from Netflix on what happens in the series' fifth episode. Suffice it to say that something that radically changes the series' aim and focus takes place, and everything that comes after it is quite excellent. The fifth episode itself is the best episode of TV I've watched this year, and I'll be writing about it in full come April 28.
For now, however, we'll focus on the first four episodes — which are uniformly good, if not quite as stellar as what's ahead. This isn't Girlboss, which takes a giant leap in quality from episodes three to four, but Dear White People is yet another Netflix series that takes a minute to get going.
Each episode of the season focuses on one of its main characters. The first follows Sam, protagonist of the Dear White People film, in the days after the all-too-realistic blackface party depicted in the movie's climactic scenes. This series seemingly takes place in a slightly alternate universe as the film: Most of the main players are the same, but most look a bit different (only Brandon P. Bell and Marque Richardson return from the film as Troy and Reggie, respectively), and some events transpire in a different order. The epilogue from the film is all but ignored in favor of a whole new what-if after the party.
Sam is as furious and funny as she was in the movie, though Logan Browning gives her a bit more depth than Tessa Thompson was able to in the movie, largely because Browning has more time to do so. She's given a new best friend — Joelle, a welcome addition — and Simien uses the series to delve deeper on how her mixed race heritage affects her identity, both to herself and to others.
Other episodes follow characters like Lionel, a gay journalist who takes a more active role in the series than in the movie, and Troy, whose Mr. Perfect exterior is challenged and broken down throughout the series. All but one main character (Joelle, sadly) receives at least one focus episode, which is a smart way to get in everyone's heads while still progressing the story along.
Simien and his writing team give his satire the same bite as it had in the film, but there's a bit more to balance the heart of the narrative with how successfully the show lampoons collegiate life. Additionally and thankfully, the role of the university president's son Kurt has been drastically reduced from the movie, taking away any one, clear antagonist. 
Instead, Dear White People focuses on systemic and cultural racism as these students' true enemy. The conflict arises in how differently each of them views the problem, and how their attempts to solve the problem come into conflict. No one is wholly right, and everyone thinks the others are in the wrong.
This makes for a challenging, funny, compelling series, one that only gets better as it goes along. Dear White People is remarkably bingeable — I wound up watching the last eight episodes in one sitting — but don't mistake it for being easy. Simien appears to have told the story here he wanted to tell with the film back in 2014, and it's a thrill to see such a singular vision come together.
And not to beat a dead horse, but stick with it through episode five at the very least. It's a small investment, and the reward is incredible.
Dear White People season one hits Netflix April 28.
Mic has ongoing TV coverage. Follow our main TV hub here.