Who is Pippa Middleton marrying? Here are 6 things to know about James Matthews.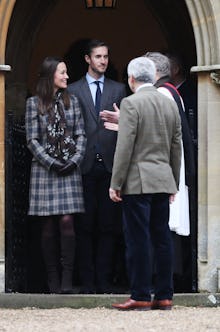 She made headlines in 2011 at her sister Kate's wedding, but now Pippa Middleton will walk down the aisle herself when she marries James Matthews. 
The Duchess of Cambridge's younger sister will wed the 40-year-old financier on May 20 at St. Mark's Church in the English village of Englefield, Berkshire. Pippa became a household name after serving as maid of honor at the royal wedding of Kate Middleton and Prince William, but her husband-to-be isn't quite as well-known. Below are some need-to-know facts about the newest member of the Middleton family. 
1. He's rich 
The Daily Beast described Matthews as having "amassed a personal fortune of tens of millions of pounds." Making decisions about money is indeed his forte: A hedge fund manager, Matthews is the chief executive of Eden Rock Capital Management Group. He lives in London's Chelsea neighborhood in a townhouse that retails for £17 million and has its own movie theater and underground garage. 
2. He's a traditionalist 
The Daily Mail reported Matthews asked Pippa's father for permission before popping the question. The traditional — and even old-fashioned — custom was important to him, a source told writer Richard Kay. 
3. He's as athletic as Pippa
Pippa runs, bikes, swims and skis, often for charitable causes — but her future husband isn't one to watch and cheer from the sidelines. The two have been photographed skiing together, and Matthews swam by Pippa's side in the 47-mile Otillo swim-run race in Sweden. 
4. He has his own plane 
Matthews owns a PC-12 private plane and he's put it to use during his romance with Pippa. The two flew to Corisca on the plane in May.
5. He's survived family tragedy 
Matthew's brother, Michael Matthews, died at the age of 22 while descending Mount Everest after becoming the youngest Brit to climb the mountain. Matthews and his family established in his memory the Michael Matthews Foundation, which helps provide education to children and construct school buildings. To help raise money for the foundation, Matthews competes in athletic events, according to People. 
6. His brother, Spencer, is a celebrity 
Spencer Matthews starred on the reality show Made in Chelsea. He also penned the book Confessions of a Chelsea Boy, allegedly experimented with cocaine and claims to have slept with 1,000 women. He briefly appeared on I'm a Celebrity ... Get Me Out of Here! but later quit the show, blaming his departure to an addiction to steroids.
Mic has ongoing coverage of the royal family. Please follow our main royal family hub here.