Chinese student starts #ChineseLivesMatter petition after United drags Asian man off plane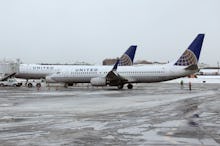 On Sunday night, viral video footage of a 69-year-old Chinese doctor being violently removed from an overbooked United Airlines flight after refusing to give up his seat ignited worldwide outrage.
The footage is gut-wrenching: Several officers forcefully pull him out of his seat. His head hits a neighboring passenger's armrest, and he is dragged down the aisle as blood pours from his face. The man's screams can be heard in the smartphone footage.
Zhang Zishi knew he had to do something when he came across the video. So Zishi, an 18-year-old Chinese student in the United Kingdom, created a We The People petition demanding the federal government launch an investigation into the United Airlines incident that took place on Sunday night. 
"I want to raise the profile of this incident and urge the US Government to launch a federal investigation to ensure justice," Zishi said in an email interview. "I want the company to apologise formally and genuinely, instead of using words such as the passenger was 'disruptive and belligerent.'"
As of Tuesday afternoon, nearly 27,000 people had signed the petition. 
"The passenger was shouting that he was chosen to leave the flight only because he is Chinese, according to the news report by the New York Times," the petition read. "We are calling the federal government to launch an investigation into this incident. #ChineseLivesMatters"
Zishi said that his next steps are to meet with like-minded people to tackle stereotypes about Chinese people and culture.
"I wish to make this into a New, Positive social movement which benefits everyone and encourage greater social integration," Zishi added. "I also [want] to show that Chinese people also know how to protect our rights by democratic means such as petitions [and] getting involved in politics."
The outrage has spread to China, where many residents took to social media to express their grievances.
On Weibo, the Chinese rendition of Twitter, "United forcibly removes passenger from plane" became one of the most popular trending topics, NYT reporter Austin Ramzy tweeted. The hashtag garnered more than 270 million views and 150,000 comments including those from Weibo users accusing United of racism and calling for a boycott of the airline.
Chinese-American comedian Joe Wong pressed for a boycott of the airline company on Weibo. 
"Many Chinese who have faced discrimination are unwilling to speak out because of their pride," Wong wrote on Weibo, according to NYT. "Because of this attitude, neither mainstream Western media nor the public pays much attention to discrimination against Asians."
The airline company also lost another coveted client: Wang Guanxiong, a 40-year-old Beijing-based angel investor who often travels to Silicon Valley.
"Why did they choose an Asian out of so many passengers?" Guanxiong told NYT. "Obviously Asians are the minorities."
As Guardian columnist Steven Thrasher pointed out on Twitter, Asian bodies have been forcefully removed from the U.S. since the 1880s. The Chinese Exclusionary Act of 1880 banned Chinese men from entering the U.S. The act incited anti-Chinese sentiment and violence like the Chinese Massacre of 1871, which killed at least 17 Chinese immigrants. Then, there's Executive Order 9066, signed by President Franklin Delano Roosevelt, which violently removed Japanese-American families from their homes and sent them to internment camps during World War II.
Centuries later, Asians are still being moved violently. Only this time, it's corporations that are violating their human rights.
April 12, 2017, 12:20 p.m.: This story has been updated.