'Cosmopolitan' ran a weight loss miracle story about a woman with cancer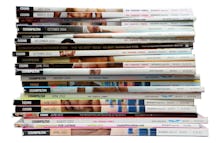 Women's magazines generally tend to peddle around their fair share of risky dieting tips and sham miracle weight loss stories. 
But Cosmopolitan took the cake on Tuesday when the publication tweeted out an article about a woman who "lost 44 points without ANY exercise" — because she had been sick with cancer. 
Though Cosmo since deleted the initial tweet, the piece is still up on its site under the headline "A Serious Health Scare Helped Me Love My Body More Than Ever." The outlet has not responded to Mic's request for comment.
The story follows Simone Harbinson, a 31-year-old woman from Melbourne, Australia, who learned she had cancer that had spread to her appendix following a surgery she had to treat a kidney infection. She then underwent another surgery to remove other infected areas, including part of her colon, which went badly; a couple of days later, fluid began to leak from her bowel necessitating another emergency surgery.
Following that procedure, Harbinson contracted an infection, sustained a lung collapse and survived a blood clot. 
Following these extreme health complications, Harbinson ended up gaining 35 pounds — which she told Cosmo was a huge disappointment, as before her cancer diagnosis she had been going to the gym six times a week with the goal of losing weight.
One year later, Harbinson found herself amid health troubles again when she injured her back after jumping flat-footed into a pool. Harbinson figured that if she shed some pounds, it might relieve her chronic back pain, and thus started a 12-week diet plan. 
All said and done, she lost 44 pounds. And yes, it was without ever having gone to the gym. But after hearing Harbinson's harrowing tale, most people would say it was lucky the 31-year-old managed to escape with her life. 
Cosmo, however, drew a slightly different — and let's just say, pretty twisted — conclusion.
The outlet wrote, "Simone's weight loss success is proof that anyone can lose weight without breaking a sweat simply by eating more mindfully — no gym required."