Ludacris' absurd CGI abs in the "Vitamin D" video were meant to be funny, director says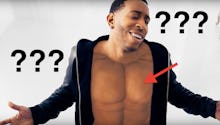 Meet Dr. D, Ludacris' character in his new "Vitamin D" music video. He wants to whack your butt with a reflex hammer and listen to your thigh with a stethoscope. Also, his abs are made of pixels.
Ludacris debuted his "Vitamin D" music video on Monday and the internet went bananas over his CGI abs, which looked more like an airbrushed six-pack of Hawaiian rolls than human muscles. And Luda was in on the joke — he even retweeted some sweet memes.
"Vitamin D" music video director Eif Rivera confirmed in an email that the team wasn't trying to pass off those ridiculous CGI abs as realistic — the intention was pure Ludacris-style comedy.
"The chest was meant to be funny as Ludacris always makes cool fun videos," Rivera said. "If you look at the entire video, he wakes up at the end upset his huge chest isn't there anymore."
Can confirm. At the end of the video, it's revealed this was all a hospital-induced fever dream. Luda does, in fact, glance at his normal-looking body and frown.
Who to thank for Ludacris' artificial athleticism? That would be Gloria FX. The visual effects company created the CGI abs, according to Rivera. The company won "best visual effects" for its work on "Where Are Ü Now" by Skrillex & Diplo with Justin Bieber, according to its website. It's too early to say whether the abs will rake in a nom. 
According to a Gloria FX spokesperson speaking on behalf of executive producer Max Colt, the abs were a collaborative effort among Rivera, the special effects team and Ludacris.
"He approved the size," the rep said, referring to Ludacris.
The spokesperson added, "The task was to make [the] chest hyperreal, but not cartoonish," which fits with Ludacris' tendency to enlarge his body parts in other music videos. 
GloriaFX art director Tomash K followed up in an email. "We sent a lot of tests/examples: bigger, smaller, stronger, with big veins," he said. "Some [were] photorealistic. Good textures. It was hard to choose. But the last one is the king of chests. People will love it. It is Luda's art."
"It was hard to choose. But the last one is the king of chests. People will love it. It is Luda's art." — Tomash K, GloriaFX
Is there any more to the story of Ludacris' absurd abs? "That's all to it," said Rivera, who noted that the response to the music video "has been great." He added, "As for the chest, some folks get it and some folks don't. We're happy either way."
We are, too.
April 11, 2017, 1:37 p.m.: This story has been updated.