'Orange Is the New Black' Season 5 First Look: Did Daya finally pull the trigger?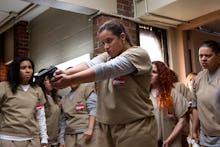 Time flies when you're not in prison. Season five of Netflix's hit series Orange is the New Black will start streaming on June 9, but there's now a new teaser trailer available on YouTube. Fans will be relieved to know it starts at exactly the same climactic point where it left off at the end of season four, with Daya, played by Dascha Polanco, pointing a gun at the new Litchfield guards — specifically Humphrey, who is played by Michael Torpey. The first look reveals one major difference, however: She may have finally pulled the trigger. 
What a tease! We've waited almost a year to find out whether or not Daya shoots, and now it looks like we'll still have to wait another couple months. The first look ends by fading to black with the clear sound of a gunshot ringing out, but we don't actually see Daya shooting the guard. Well, at least one thing's for sure: Life at Litchfield Penitentiary has reached a high-octane level. 
Here are a few things we do know about the much-anticipated fifth season of Orange is the New Black. 
New style
The style of the show is changing in an interesting way. Season five will take place in real time, covering a period of just three days. This suggests a lot of action will happen in an extremely short period of time, which makes sense considering where they ended up at the end of season four. 
Litchfield was pretty much turned on its head after the shocking, yet incredibly well-handled death of Poussey, who is played by Samira Wiley. Her death came on the heels of the Black Lives Matter storyline, which caused racial tensions to escalate, including those between the inmates and guards. This set up the prison riot that ensued in the finale, leaving fans wondering how things could possibly resolve after so much damage has been done. 
There's only one way to find out. Binge-watch season five when it comes out on June 9th. 
Mic has ongoing Orange is the New Black coverage. Please follow our Orange is the New Black hub here.