'Pokémon Go' Santa Monica Pier and 5 other places to catch Gen 2 Pokémon this summer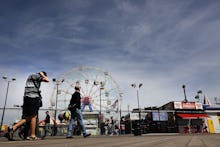 The Pokémon Go gen 2 update offered players new reasons to fire up their smartphones and get catching again. The only problem: they brought fans the update back in February. The winter month is generally uninteresting and offers little incentive to get out there, compared to when the game launched in July. Though with summer creeping up on us again, Pokémon Go fans can finally go grab all those new Pokémon. With warm weather on the horizon, here are the best places to catch Pokémon this summer.
Pokémon Go best summer locations: Santa Monica Pier in California
Santa Monica Pier proves to be a solid option when trying to catch Dratini,  Electabuzz and the occasional Lapras (as shown above). In between catching rare gen 1 Pokémon, you can even spend some time in Pacific Park or visit the aquarium to, you know, see real animals. 
Pokémon Go best summer locations: Central Park
If your travels take you to New York City, you'll want to venture to Central Park. The area is known for seeing some rare 'mon. You may have missed out on the literal stampedes of trainers last summer to catch uncommon Pokémon, but who knows what the summer of gen 2 will bring. We're hoping for more masses of people charging to grab a single Pokémon. This time a Togetic or Miltank instead of a Dragonite or Snorlax.
Pokémon Go summer locations: Spruce Street Harbor
Those residing in Philadelphia will want to visit Spruce Street Harbor as the weather warms up. The location remains a great spot to stock up on Psyduck and Magikarp — to net you that coveted Gyarados — with the occasional Dratini or Vaporeon thrown in the mix. Kicking it by the water: it doesn't get more summery than that.
Pokémon Go summer locations: Bayfront Park
If you're going to be in Miami, this one is a doozy (in a good way). Bayfront Park is a beautiful part of the downtown Miami area, but it's also a great place to snag some rare Pokémon. Initially, Bayfront Park was known for its efficiency as a Charmander nest. If you've ever played Pokémon Go, you know Charmanders are few and far between.
In the days of the Pokémon Go gen 2 update, the area has now transformed into a Heracross nest and Corsola nest. Interestingly, both are region exclusive: Corsola to areas near the equator and Heracross in Central America, South America and the lower tip of Florida. Bayfront Park covers you for both. Book the flight, asap.
Pokémon Go summer locations: Monterey Park, CA
California gets all the good PoGo spots. If you're wondering why we're shooting you out near Los Angeles, it's because of the rock skin Pokémon. Larvitar is hard to find, but not in Monterey Park. Drop by and catch as many as you can, because once you have enough to evolve for a Tyranitar, you'll be that much closer to becoming unstoppable.
Pokémon Go summer locations: Portland Waterfront Bike Trail
Players of gen 2 Pokémon Go know that Cyndaquil is just as rare to find as the original fire starter Charmander. If you're anxious to get one of these little beasts with fire along its back, the Portland Waterfront Bike Trail is a known nest. Not to mention you can pretend like you're on Cycling Road and make eye contact with "trainers" along the way. Just promise you won't bike and play Pokémon Go.
Check out more Pokémon coverage
Read more coverage on the rumored Pokémon Stars, including Nintendo's comments on the potential Switch game and news about Game Freak putting up the Now Hiring sign. Watch how well Sun and Moon could translate to Switch if it was a thing or how the game may not even arrive until next year. Or if you'd rather live in the now, read about Pokémon Go instead.