When will 'Orange Is the New Black' season 5 premiere on Netflix?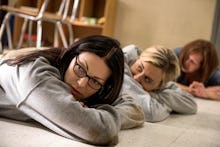 Everything is about to change at Litchfield Penitentiary.
The fifth season of Orange Is the New Black is coming to Netflix and we're more than ready. 
Picking up where season four left off, the new season of OITNB will be set over a three-day period and will unfold in real time. This is a first for the series, and Netflix just released an intense trailer for season five. 
Premiere date
Season 5 of Orange Is the New Black debuts on Friday, June 9. 
There is a riot as a result of Poussey's death, and the inmates are filled with rage. The prison has become a place of disorder — and as we saw at the end of last season, Daya has come into possession of a gun. The question is, what will she choose to do with it?
While you wait ever so patiently for season five to drop on Netflix, you can stream OITNB's first four seasons now to get all caught up. 
Mic has ongoing TV coverage. Please follow our main TV hub here.