LGBTQ group visits Oklahoma capitol, prompts mass email warning about "cross-dressers"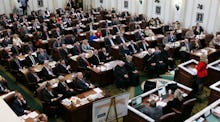 An LGBTQ student group visited the Oklahoma capitol on Monday, prompting a panicky mass email warning staffers about "cross-dressers in the building" and permitting House pages access to a private restroom, the Oklahoman reports.
The email bore the electronic signature of Karen Kipgen, supervisor of the page program. 
"As per the Speaker's office, Pages are being allowed access to the ladies restroom across from 401, for today," the email read. "Again, there are cross-dressers in the building."
Kipgen did not immediately respond to Mic's request for comment.
Speaker of the House Charles McCall's office quickly rebuked the email, denying responsibility and saying its message was not approved by the congressman or anyone on his immediate staff.
"The email was not authorized by me, my staff or my office," McCall said in a statement, according to the Tulsa World. "It was sent unilaterally by a House staff member without any input or permission."
The visiting LGBTQ group — which numbered about 70 students — was reportedly visiting the capitol to lobby for HIV awareness and education funding. Some of the students expressed disappointment with the response they got.
"Never have I felt so unsupported," Pickles Lee, an 18-year-old a senior at Owasso High School in Owasso, Oklahoma, told the Tulsa World. "This email sort of escalated everything."
McCall went on to say that he did not condone the message about the student visitors. He wanted "all Oklahomans" to feel welcome in the capitol, he explained.
"As Speaker, all Oklahomans should feel welcome in the Oklahoma Capitol building," McCall said. "We are looking into this matter, and it will be taken seriously."
The latent bigotry made public in Monday's email may seem like something straight out of 1950, but in truth, it echoes the same anxieties that fueled homophobic and transphobic legislation in states like North Carolina as recently as last year. 
Former Gov. Pat McCrory signed House Bill 2 into law in 2016, mandating that people in North Carolina use public restrooms that correspond to the gender on their birth certificate rather than their gender identity. Supporters justified the law by appealing to fears that transgender women were just men in wigs and dresses trying to sneak into restrooms to harass women and young girls. 
There's little statistical evidence to back up this concern. No reported cases have been made public of a transgender person harassing a non-trans person in a public restroom in the United States. In fact, trans people are far more likely to be the victims of harassment in public facilities than perpetrators, according to reports. 
Nevertheless, as evidenced by Monday's email, the notion of LGBTQ people mingling with straight people in public restrooms continues to provoke panic across the country.