'Out' tried to tell men they should "Always shave their body hair" — men weren't amused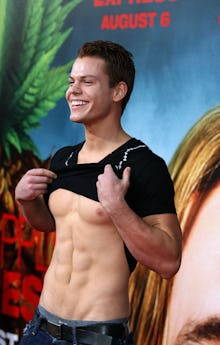 Out shared an article on Facebook Tuesday morning that declared "10 Reasons You Should ALWAYS Shave Your Body Hair."
"Because hairy chests are so overrated," they captioned the post.
The article itself, first published on their sister site Pride in 2016, is comprised of six words "To shave or not to shave? before inviting the reader to click through a slideshow of one-sentence reasons that include "no longer shedding all over the place" and "you can pretend you're a serious swimmer."
The post immediately caused an uproar from commenters who found the article's premise bizarrely incendiary to a community that explicitly values and even celebrates hairy men — and often allows for more inclusive, less rigid standards of beauty than heteronormative society.
"People are being tortured in concentration camps in Chechnya, but please tell me again about smooth chests and how overrated hairy chests are," wrote one commenter. "Why are so many people intent on telling others how to live their life? You do you and I'll do me, thank you," offered another.
Perhaps even more egregious was the article's unfounded claim that "many gay men prefer hairless men." In fact, a 2013 study conducted by Manhunt.com polled around 27,000 of their members to find the overwhelming majority actually prefer men au naturale.
Another point of concern that many brought up: blatant hypocrisy. It turns out, on the same day that the original story was published in 2016, Pride posted another article by the same author with the headline "11 Reasons You Should NEVER Trim Your Body Hair." Even more dumbfounding, just yesterday they reshared the piece on Facebook.
Attentive readers did not miss a beat in pointing this out. "Okay, I'm confused, Out Magazine," one user wrote. "Did you not, just YESTERDAY, share an article claiming the exact OPPOSITE!?! Like, 'the hairier, the better?'" Others agreed: "Yesterday this same page advocated body and facial hair ... Make up your minds."
Here's hoping gay men will begin clapping back by responding with shirtless photos proudly displaying their furry, shaggy, unshaven bodies.
Here Media, who owns both Out and Pride, did not immediately respond to Mic's request for comment.