"You lie!" Congressman Joe Wilson taunted with chants of "you lie" at town hall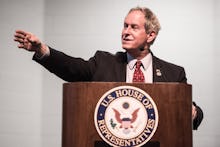 Rep. Joe Wilson — the South Carolina congressman infamous for shouting, "You lie!" during a 2009 address by then-President Barack Obama — had his words turned against him Monday when protesters at his town hall drowned him out with chants of "You lie!"
Wilson voted against the Violence Against Women Act in 2013. But on Monday at Aiken Technical College in Graniteville, South Carolina, he said, "I've also supported the local solicitor here, and the solicitor in Lexington all efforts to make sure that violence against women is fully enforced." 
That didn't sit well with many of the roughly 200 in attendance. 
Wilson, who represents the state's 2nd Congressional District, is one of the most conservative members of the House of Representatives, according to GovTrack. His record includes supporting anti-abortion legislation, the government shutdown in 2013 and President Donald Trump's blocked Muslim ban. 
His 2009 outburst during Obama's address to Congress came after Obama said the Affordable Care Act wouldn't mean free health care for undocumented immigrants. 
"The reforms I'm proposing would not apply to those who are here illegally," Obama said.
"You lie!" Wilson shouted.
Wilson apologized for his heckling, saying in a statement that his emotions had gotten "the best of me."
"While I disagree with the president's statement, my comments were inappropriate and regrettable," Wilson said. "I extend sincere apologies to the president for this lack of civility."
The incident led to a spike in contributions to Wilson.
Dana Phillips, a South Carolina resident at Monday's town hall, told the Post and Courier she was embarrassed to have Wilson as her representative and protested the event to show the congressman that not everyone in his red district supports him.
"I moved here from somewhere else," she said. "If I had known before I moved here that this is the man who stood up in Washington, D.C., and yelled at our former president, I would not have moved here."