'Elder Scrolls 6' Leak: Multiplayer option hinted at in new Bethesda job listing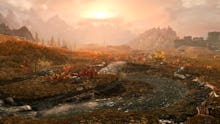 Rumors have been flying around for months about the next game in the venerable Elder Scrolls series of open world RPGs. All we know right now, though, is that a game called Elder Scrolls 6 will eventually come out. Someday.
Other than that, there are no firm details about the project. We don't know its setting or even what platforms it will be on. However, thanks to a Bethesda job listing, we know it could have online multiplayer.
Elder Scrolls 6 leak: Multiplayer options?
This comes courtesy of GameRanx, which shared a Bethesda job listing that asks for candidates with "experience developing for online multiplayer environment." Given that the team behind Elder Scrolls and Fallout usually doesn't put online multiplayer in their games, one could assume that means Elder Scrolls 6 will toy with the idea.
Don't be so hasty, though. Bethesda has confirmed that the team has three new projects in the works, including one mobile game. The other two are massive projects that are supposedly different from what we've seen from Bethesda in the past. So Elder Scrolls 6 might not necessarily be one of them. The company could be making something entirely new with an online emphasis, after all.
If the next Elder Scrolls has online multiplayer, it would likely be something different from what Elder Scrolls Online already offers. Being able to roam one of Bethesda's patented open worlds with a friend in co-op could be fun, for example. Maybe we'll find out what that team is working on at E3 2017 in June.
More gaming news and updates
Check out the latest from Mic, including our deep dive into how female Overwatch players are dealing with online harassment, a cool making-of video for Legend of Zelda: Breath of the Wild and an article about what a Bechdel test for gaming might look like.