What Melania Trump wore her 12th week as first lady — the zero times she appeared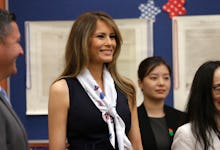 It's almost as if first lady Melania Trump and the American people are two ships passing in the night. 
For the third time as first lady, Trump has made it through a week without making a single official appearance, choosing instead to lay low despite having an extremely not-low profile in the White House as part of the first family of the United States. 
Maybe she's tired. The week before this one was Trump's most active yet, with public meetings with Queen Rania of Jordan and the first lady of China. We got four outfits out of her last week. 
But this week, at time of writing at 2:30 p.m. on April 14?
We haven't gotten another outfit. 
Nada. 
Zilch. 
No White House appearances for Mrs. Trump. 
However, we did get two tiny flashes of her, two tiny assurances that she's still our first lady. 
The first time was on Monday, when she and Barron and (surprisingly) Tiffany Trump all went to a bowling alley in Manhattan for Barron's birthday. According to one eyewitness, Melania did not change into typical bowling shoes, instead keeping on her high heels. And if we know anything at all about Trump, it's that she loves Christian Louboutin heels, so she probably wore those. 
Then, in very sneaky pictures printed by the Daily Mail, you can see Melania scooting into an SUV, and we see just a sliver of her outfit. She was wearing what appears to be an army green jacket. But since no official photographs were taken, and we can't see even half of her outfit, we unfortunately cannot report this one out. 
The second time we got a sense of her presence this week was on Thursday evening, when it was reported that Melania Trump had touched down in West Palm Beach, Florida, for Easter weekend. Do we have any photographic proof of her this time? No. 
All we have is a picture of a plane from the press on Thursday night with the caption: "The plane carrying the first lady of the United States Melania Trump arrives at the Palm Beach International Airport so her [sic] and President Donald Trump can spend Easter weekend at Mar-a-Lago resort on April 13, 2017 in West Palm Beach, Florida." 
What is she wearing? Not a clue, dude. 
Pressured to guess, we'd say that she probably wore pieces this week from designers who were white, not immigrants and either American or European, as is her reputation. 
Maybe she wore Michael Kors. Maybe she wore Ralph Lauren. Or maybe she lounged in some nice pajamas most of the time. 
With the White House Easter Egg roll this coming Monday, we expect Trump to be far more active this coming week, though with a first lady as unpredictable as this one who can really say? 
You can see previous recaps of what Melania Trump wore here.