No, Ruth Bader Ginsburg did not just call Lindsey Graham a woman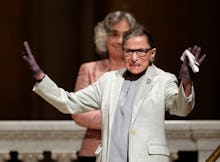 On Tuesday, several outlets reported that Supreme Court Justice Ruth Bader Ginsburg accidentally referred to Sen. Lindsey Graham (R-S.C.) as one of the "women of the Senate" while accepting an award at Allegheny College.
Here is Ginsburg's original quote:
I thought back to the 1993 confirmation of my nomination to the court — the hearing was altogether civil, the vote was 96 to 3. For Justice Scalia, the vote was unanimous. Let's hope members of Congress, the members that Allegheny College has already honored — Vice President Joe Biden and Sen. John McCain, the women of the Senate, Sens. Dianne Feinstein and Lindsey Graham — let's hope that they and others of goodwill will lead in restoring harmonious work ways.
It certainly does seem like Ginsburg is mistaking Graham for one of the "women of the Senate." But a careful student of English might also notice this could simply be a case illustrating the necessity of the ever-controversial serial comma — at times called an "Oxford comma" — which is sometimes used before a conjunction at the end of a list. (Mic does not include the serial comma in its style guide.)
If you're unfamiliar with this English-language conundrum, AEFerg made an educational cartoon about it:
The distinction hinges on whether Allegheny College honored "the women of the Senate" as a collective and Dianne Feinstein separately. A Mic investigation that involved roughly 12 seconds of googling revealed this is indeed the case. The program for the event lists "Women of the Senate" and "Senators Dianne Feinstein (D) and Lindsey Graham (R)" as two entirely separate honorees.
Mystery solved.