It's not just United — 8 times airlines violated people of color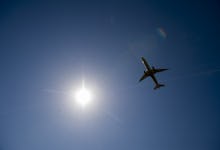 David Dao is not the first to be dragged off an airplane. He's also certainly not the first to have been allegedly racially discriminated against by an airline company.
In fact, airlines companies have discriminated against people of color so many times, Mic published an article listing 26 everyday things that can get you kicked off a plane — and that's just if you're Muslim or look like a Muslim.
But viral footage of Dao, a 69-year-old Asian doctor, being forcefully removed by security guards from an overbooked United Airlines flight, sparked a new conversation about racial profiling and discrimination among airline carriers. Mic curated a list of eight other times when these companies discriminated against people of color.
1. Police officers dragged a black professor off a plane. 
In December 2016, an University of Michigan biomedical engineering professor was dragged off a Delta Airlines flight by police officers because she refused to "comply with boarding and baggage check procedures," according to the Huffington Post. She is black.
2. A United Airlines flight attendant refused to give an unopened can of soda to a Muslim woman because it could be used as a "weapon."
Tahera Ahmad, an associate chaplain at Northwestern University, said she was racially discriminated against on an United Airlines flight from Chicago to Washington, D.C. When Ahmad requested an unopened can of soda, a flight attendant said she was prohibited from serving unopened cans since Ahmad could use it as a weapon. Ahmad, who wears the hijab, is a Muslim woman. 
Here is Ahmad's Facebook post about the incident:
3. Spirit Airlines removed U.S. Army veteran Janae Fowler, a black woman, because her service dog looked "mean."
Janae Fowler, a U.S. veteran, and her boyfriend were kicked off a flight from Denver to Houston because a flight attendant thought Fowler's service dog — a pit bull and chocolate lab mix — looked and acted aggressive. When Fowler informed a flight attendant her dog was a service animal for emotional support, she responded by demeaning the veteran's disability. "Now she's on the phone and she's saying 'an emotional support animal isn't a service animal,'" Fowler told ABC 13. "'A service animal is for someone with real disabilities.' And I felt insulted because there are veterans in the world that have disabilities you can't see."
Spirit Airlines released a statement claiming that her dog was growling at other passengers and that it paid full fare for Fowler and dog to be moved to the next flight.
4. Easyjet Airlines kicked off three Muslim siblings after passengers accused them of being members of ISIS.
Armed police officers and a military intelligence officer removed siblings Sakina, Maryam and Ali Dharas from an EasyJet flight departing London for Naples, Italy, after allegedly receiving a text message in Arabic. The intelligence officer told them that other passengers claimed they were members of the Islamic State group, and the three were then interrogated and forced to show all their electronic communications on their phones. The Dharas siblings are Muslim. Sakina and Maryam both wear the hijab.
Below is Fusion's video interview with the Dharas siblings:
5. Southwest Airlines kicked off an Iraqi refugee from their flight after he spoke Arabic on the phone.
Khairuldeen Makhzoomi, a 26-year-old refugee from Iraq, was kicked off a flight that was set to depart from Los Angeles International Airport after a passenger said they were uncomfortable with him speaking Arabic on the phone. Makhzoomi was speaking with his uncle.
Southwest Airlines refunded his ticket, but only after security guards and police officers interrogated him. He also went through invasive screenings, including a search with police canines.
Watch Makhzoomi's video interview with the Associated Press about the ordeal below:
6. Delta Airlines blocked a doctor from helping a sick passenger because they didn't believe her.
In October 2016, a sick passenger on a Delta Airlines flight was unresponsive. After a flight attendant asked if there was a doctor on board, Tamika Cross — an OB-GYN from Houston — offered to help. But according to Cross' Facebook post, a flight attendant grabbed her arm and said, "Oh no, sweetie, put your hand down, we are looking for actual physicians or nurses or some type of medical personnel, we don't have time to talk to you."
Cross then said a white man stood up and said he was also a doctor. The flight attendant immediately believed him and allowed him to help the passenger. "'Thanks for your help, but he can help us, and he has his credentials,'" the attendant said, according to Cross. The man hadn't shown anything to the flight attendant, she said — he just "fit the 'description of a doctor.'" 
Here's Cross' Facebook post in full: 
7. Sikh actor Waris Ahluwalia was barred from entering an Aeromexico plane.
The Sikh actor posted an Instagram post in February 2016 about how he was blocked from boarding a plane because he wears a turban. "This morning in Mexico City I was told I could not board my @aeromexico flight to NYC because of my turban," Ahluwalia wrote. 
8. Spirit Airlines kicked off 7 black passengers, seemingly for no other reason than that they were black.
After a couple was booted off a plane for being disruptive, a Spirit Airlines crew removed five other black passengers from a November 2015 flight at Los Angeles International Airport. Witnesses on the flight, according to NBC News, said that flight attendants were singling out the five passengers for the color of their skin. 
"As we were about to take off, a flight attendant started to yell at a black gentleman, saying he threatened him. The man never threatened the flight attendant, he simply asked to get to his seat," Tyler Grosso, a passenger on the flight told NBC News. "They told them they were 'threatened' by these African-American passengers who were doing simply nothing but sitting in their seats."
Here's footage of the whole incident:
April 12, 2017, 10:24 a.m.: This post has been updated.