Sean Spicer: Even Hitler didn't use chemical weapons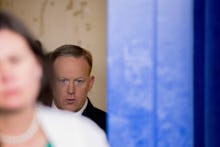 Even a figure as despicable as Adolf Hitler didn't deploy chemical weapons during World War II, White House press secretary Sean Spicer said Tuesday.
Spicer made the remark, which ignored the slaughter of Nazi concentration camp victims by gassing, while justifying a U.S. military strike against Syria in retaliation for Bashar Assad's regime's use of chemical agents against his own people.
"We didn't use chemical weapons in World War II," Spicer said when discussing alleged Russian complicity with the Assad regime's assault last week. "You had someone as despicable as Hitler who didn't even sink to using chemical weapons. So you have to, if you're Russia, ask yourself if this is a country and a regime that you want to align yourself with." 
Spicer scrambled to clarify his remark when given the chance by a reporter at the briefing — but stunned listeners once again with his clumsy description of Nazi death camps.
"When you come to sarin gas, he was not using the gas on his own people the same way that Assad is doing," Spicer said of Hitler. "He brought them into 'the Holocaust center' and I understand that. But I'm saying in the way Assad used them where he went into towns, dropped them down."
"I appreciate the clarification there," he added. "That was not the intent."
CNN jumped on the gaffe, adding a fact check to its chyron. "White House: Hitler didn't 'sink to level of using chemical weapons' like Syrian leader (Hitler gassed millions)."
Twitter lit up with responses, including one from former first daughter Chelsea Clinton, who implored Spicer to hone his knowledge at the nearby United States Holocaust Museum.
The exact number of people killed by the Nazi regime, including by chemical means such as in gas chambers that used Zyklon B, is undetermined, according to the museum.
Among those massacred by Hitler were Jews, gays, prisoners of war and "German political opponents and resistance activists in Axis-occupied territory."
After the briefing and resulting backlash, Spicer said he did not intend to "lessen the horrendous nature of the Holocaust."
"I was trying to draw a contrast of the tactic of using airplanes to drop chemical weapons on innocent people," he said in a written statement.
Spicer subsequently issued a revised statement that changed the phrase "innocent people" to "population centers."
He closed by saying that "any attack on innocent people is reprehensible and inexcusable."
Spicer later Tuesday appeared on CNN to apologize for his "insensitive" remarks. 
Asked by anchor Wolf Blitzer if Trump had encouraged him to do so, Spicer responded, "I realized that I had made a mistake, and I did not want to be a distraction to the president's agenda."
Drawing any comparison to the Assad regime and the Holocaust was simply not "appropriate," Spicer said.
April 11, 2017, 6:34 p.m.: This story has been updated.