Here's a list of press secretary Sean Spicer's most cringeworthy gaffes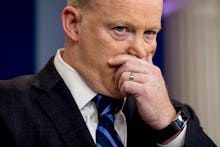 White House press secretary Sean Spicer issued perhaps his most outrageous alternative fact to date on Tuesday: That Adolf Hitler "didn't even sink to using chemical weapons" during World War II.
Spicer made the bizarre claim while discussing Syrian President Bashar Assad's horrific sarin attack on his own citizens last week. 
When asked by a reporter to clarify, Spicer maintained that Hitler, who murdered 6 million Jewish people and others in large part with gas chambers, "was not using the gas on his own people the same way that Assad is doing."
Spicer attempted later on Tuesday to walk back his ahistorical claim but it was too late: He had already been widely criticized, and the alternative history had already been filed away in the growing catalog of Spicer's public follies. The fact he made the statement on the Jewish holiday of Passover definitely did not help.
Indeed, Spicer — who hates Dippin' Dots, feasts upon gum and was a creepy Easter Bunny — has amassed a stunningly long list of gaffes in his short tenure as White House spokesperson. 
Here are five of the most cringeworthy ones.
Spicer scolds African-American reporter April D. Ryan
During a testy March 28 press briefing, veteran White House reporter April D. Ryan asked Spicer a question about the House investigation into the Trump administration's alleged ties to Russia. 
When Ryan reacted to Spicer brushing off the investigation, he scolded her: "Stop shaking your head again," Spicer said.
Spicer gives press briefing with spinach in his teeth
On March 27, Spicer showed up to a press briefing with half of the salad he ate for lunch still stuck in his bottom teeth, spawning a litany of memes. 
Spicer accidentally argues in favor of the individual mandate
While trying to make the case for the American Health Care Act in early March, Spicer accidentally argued in favor of the Affordable Care Act's individual mandate — which the Republican plan would've eliminated.
People in their 20s have "no desire to go get health care" because they are healthy and would rather spend money "on something else," Spicer said March 8, explaining without, realizing it, precisely why Obamacare requires everyone to purchase insurance or face a penalty: Those healthy young people are needed in the health care pool to drive down costs for everyone else. 
Spicer's Venmo account is discovered
Spicer had been the White House spokesman for just over two weeks when his Venmo account was apparently discovered by Who? Weekly podcasters. The good people of the internet immediately used this new knowledge to troll the press secretary, requesting money for "mental health counselor" bills and Melania Trump security costs. 
It wasn't the only time Spicer's social media came into the spotlight: In late January, he may have accidentally tweeted out his Twitter password.
Spicer endorses Onion article mocking him
Spicer was fresh off his angry introduction to the press — and America — when he accidentally owned himself by retweeting and endorsing an Onion piece mocking him.
"You nailed it. Period!" Spicer tweeted in response to an Onion video that promised the press secretary would "provide the American public with robust and clearly articulated misinformation."