Nancy Pelosi says Donald Trump has to fire Sean Spicer for "downplaying" the Holocaust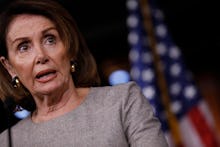 House Minority Leader Nancy Pelosi called on President Donald Trump to fire his press secretary on Tuesday for minimizing the Holocaust.
"While Jewish families across America celebrate Passover, the chief spokesman of this White House is downplaying the horror of the Holocaust," the Democratic congresswoman said in a statement she shared on Twitter.
Pelosi took aim at White House press secretary Sean Spicer after he sparked backlash by saying even a figure as despicable as Adolf Hitler didn't use chemical weapons on his own people, as Syria's President Bashar Assad did last week.
"Sean Spicer must be fired, and the president must immediately disavow his spokesman's statements," Pelosi said in the statement. 
"Either he is speaking for the president, or the president should have known better than to hire him."
Spicer made the statements while discussing the U.S. strike on a Syrian military installation in response to the Assad regime's use of chemical weapons on civilians.
When asked to clarify, the spokesman tried to walk back his statement, ostensibly making matters worse in the process.
"When you come to sarin gas, he was not using the gas on his own people the same way that Assad is doing," Spicer said of Hitler during the White House daily press briefing. "He brought them into 'the Holocaust center,' and I understand that."
Spicer subsequently issued several written statements asserting he had in no way intended to "lessen the horrendous nature of the Holocaust."
Despite the cascade of criticism, including a call from the Anne Frank Center for his resignation, Spicer still had his defenders among Trump loyalists.
"He's got the hardest job in communications, probably internationally. And he's under fire from the most brutal and, in many cases, dishonest White House media in modern times," former Trump campaign aide Michael Caputo said via direct message. 
"If the straight shooters in the room don't cut him some slack on simple mistakes like this one, then it's on them, not him."
Caputo also lashed out at the Anne Frank Center via Twitter for "dishonoring the legacy" of its namesake by "joining in blatant partisan sniping" over Spicer.
Longtime Trump confidant Roger Stone dismissed the controversy in a terse text message, saying of Spicer, "Honest mistake — just doesn't know history."
And Barry Bennett, a strategist who joined Team Trump after managing the GOP primary run of Ben Carson, had both praise and advice for the press secretary.
"There are no comparisons to Hitler. You should just wipe that right out of your vocabulary," Bennett said by phone Tuesday afternoon.
As a White House spokesman, "you have to resist the temptation to talk about things you're not prepared to talk about," Bennett said, plus "be willing not to give the media what they want" and avoid unforced errors that become instant "fodder" for partisan foes.
Overall, Bennett said, "Sean is a very bright guy, and it's the toughest job in the world. He's got people pointing pens and pads at him at the front, and pitchforks at the back. So put yourself on a short leash."
April 11, 2017, 6:10 p.m.: This story has been updated.