Anne Frank Center calls Sean Spicer a Holocaust denier, demands his firing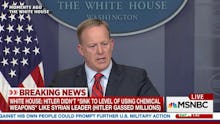 The Anne Frank Center for Mutual Respect, a human rights organization named after the Jewish girl who died of typhus in Nazi dictator Adolf Hitler's Bergen-Belsen concentration camp during World War II, denounced White House press secretary Sean Spicer for engaging in "Holocaust denial" and demanded his firing after Spicer suggested even "someone as despicable as Hitler ... didn't even sink to using chemical weapons" at a press conference on Tuesday.
Hitler, of course, gassed millions and killed millions of others with conventional weapons during the Holocaust, when his regime rounded up scores of Jews and others for extermination in concentration camps. (Spicer did not help things by later inartfully referring to those camps as "the Holocaust centers.") The press secretary brought up the topic of his own volition while discussing the White House's response to Syrian dictator Bashar al-Assad's repeated use of banned chemical weapons on civilians.
In a statement posted to Twitter, Anne Frank Center's executive director Steven Goldstein said Spicer had engaged in "Holocaust denial" and called the statement an "evil slur," noting it is currently the Jewish holiday of Passover.
"On Passover no less, Sean Spicer has engaged in Holocaust denial, the most offensive form of fake news imaginable, by denying Hitler gassed millions of Jews to death," Goldstein wrote. "Spicer's statement is the most evil slur upon a group of people we have ever heard from a White House press secretary. Sean Spicer now lacks the integrity to serve as White House press secretary, and President Trump must fire him at once."
Spicer does not appear to be a Holocaust denier in the strict sense of denying the Nazi regime massacred civilians, but he was clearly feeling the heat after his flippant reference to Hitler outraged viewers.
The press secretary quickly walked back his statement, saying he understood the "horrendous nature of the Holocaust" and was simply "trying to draw a distinction of the tactic of using airplanes to drop chemical weapons on population centers."