Kansas special election results: Republican Ron Estes wins congressional seat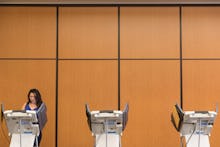 Republican Ron Estes fended off Democratic challenger James Thompson in a contest for Kansas' 4th Congressional District on Tuesday night, pulling off a 7-point victory in a district that previously leaned Republican by 29 percentage points.
Estes' win averted a potentially shocking upset victory by Thompson. According to polls, Estes was ahead by 24 points in March, but internal Republican polling indicated the lead narrowed to one percentage point just days ago. Trump personally endorsed Estes in robocalls and on Twitter in the closing days of the race. Republicans flooded the district with tens of thousands of dollars in ad buys to ensure the seat stayed in GOP hands.
Mic's live coverage of the race follows below.
12:02 a.m. EST: Estes' relatively poor showing should spook Republicans running in 2018
The relatively narrow margin for Estes' win in what was previously an ultra-safe district — just shy of 7% — is likely rattling Republicans across the country.
"Republicans nationally should be very worried," Washburn University political scientist Bob Beatty told the Associated Press. "It's remarkable that Thompson got this close."
Poll analyst Nate Silver, who runs polling site FiveThirtyEight, tweeted "any takeaway other than that #KS04 is *really* worrying for Republicans is overthinking it."
The Washington Post's Dave Weigel noted it was remarkable that the surprisingly tough challenge was mounted by a "pro-choice Berniecrat," 
Though Thompson was likely bolstered by extreme public disapproval of Republican Kansas Gov. Sam Brownback, who is currently at two-thirds unpopularity, observers noted the narrow margin of victory is likely to give other Republicans in Congress second thoughts about how closely they would like to be associated with Trump's administration.
"Nobody gave us any credit. I mean, they said, 'Oh, you're a long shot, you can't win,'" Thompson said on Monday, according to BuzzFeed. "And for us, we've already done the impossible in that we've made it competitive. So if we can win, that just caps it off."
11:21 p.m.: Estes wins 53-45%, but Thompson gave him a huge run for his money
As of 11:20 p.m., Estes' lead had expanded to 53% to 45% over Thompson with 60,945 to 51,467 votes, with all but one precinct reporting.
That's a huge decline from 2016, when Pompeo won with 60.7% of the vote.
"We have already shocked this country," Thompson said, according to the Wichita Eagle's Jonathan Shorman. "No Republican district is safe."
"Mr. Estes did not beat us. It took a president of the United States, the vice president, the speaker of the House, a senator coming into our state, and a bunch of lies, to drum up the vote," Thompson added.
Republican leaders more or less confirmed that version of events.
"We just had to scare everyone out to vote," Kansas GOP Chairman Kelly Arnold told BuzzFeed News.
"The results suggest Democrats can't be counted out, even in Kansas — a solid Republican state — and can mount challenges that have realistic chances of producing a win," wrote the Kansas City Star, noting that the widespread unpopularity of GOP Kansas Gov. Sam Brownback, whose disapproval rating hovers near 66%, may have contributed to Thompson's strong showing.
10:44 p.m. Eastern: The Associated Press has called the race for Estes
Estes has picked up considerable steam and the AP has called the race for the GOP.
With the Kansas secretary of state's office reporting Estes with a 52-47% lead over Thompson with 484 of 620 counties reporting, the AP tweeted the race was over at 10:43 p.m. Eastern.
10:12 p.m. Eastern: Estes' narrow lead holds, but Republicans are doing very badly this year
At shortly after 10:00 p.m. Eastern, Estes' narrow lead continued to hold with 384 of 620 counties reporting. Estes led Thompson 51-49% with 36,705 votes to Thompson's 34,612.
ABC's Ryan Struyk noted that, while Estes' turnout was down, Democrats continued to churn out in numbers similar to 2016's presidential election. In one precinct in downtown Wichita, Thompson built on Clinton's 57% victory over Trump, winning over 85% of voters.
In other words, this is a phenomenally close race in a district that not long ago was totally uncompetitive for Democrats.
9:52 p.m. Eastern: Estes now leading, but final outcome may boil down to Sedgwick County
Here's a look at the map as of approximately 9:45 p.m. Eastern. Estes continues to lead heavily in rural counties, whereas Thompson still holds a 57% lead in Sedgwick County and leads Estes by just a handful of votes 2,685-2,677 in nearby Harvey County.
Estes is now up by a razor-thin margin in the total vote count.
As the UVA Center for Politics' Kyle Kondik noted on Twitter, it's likely roughly two-thirds of all votes will come from Segdwick County, which contains the state's biggest city, Wichita. If Thompson continues to lead in Sedgwick, he will have successfully narrowed the race considerably.
9:26 p.m. EST: Thompson continues to perform well, but unclear if early lead will continue to hold
With 88 of 620 counties reporting, Thompson continues to lead with 53% of the vote to Estes' 45%, according to a results page on the Kansas state government website.
MSNBC correspondent Steve Kornacki noted that in Pawnee, where Pompeo got 85% of the vote, Estes had fallen to scoring just 71% of the final tally.
In Sedgwick County, Kornacki added, Thompson had an early lead of 59%, whereas Pompeo won with a 57% margin in 2016.
Kansas Secretary of State Kris Kobach told reporters however the race goes, it's not necessarily a referendum on Trump, the Witchita Eagle's Jonathan Shorman reported.
8:35 p.m. Eastern: First district to be counted swings heavily for Thompson
The first district to be counted after polls closed at 8:00 p.m. Eastern swung heavily for Thompson, according to the Kansas City Star's Bryan Lowry, but full results will take some time to come in.