Bill O'Reilly is taking a vacation from Fox News amid sexual harassment scandal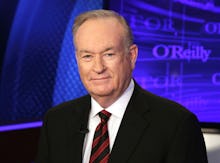 Bill O'Reilly will take a nearly two-week vacation from his Fox News program, the host announced Tuesday.
The leave — which reportedly had been planned in October — comes as O'Reilly is embroiled in a sexual harassment scandal that has led advertisers to ditch his show en masse.
The scandal broke when the New York Times revealed that O'Reilly and Fox News had paid at least $13 million to settle the O'Reilly Factor host's sexual harassment claims. 
Though O'Reilly typically takes a family vacation around Easter, CNN noted, he typically does not take as much time off, leading to speculation that he may not return to his show.
Four network sources told New York magazine that Tuesday might have been it for O'Reilly as the embattled host's behavior is investigated by Fox News parent company; the Murdoch family, which runs the network, is reportedly divided on how to handle O'Reilly.
An O'Reilly spokesperson denied O'Reilly was being taken off the air, telling CNN that the "Factor broadcast will remain unchanged until Mr. O'Reilly's return post-vacation."
O'Reilly will return to his program April 24, according to his representative.