Russia warns US over Syria in tense start to Rex Tillerson's Moscow visit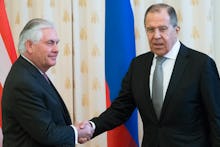 Russia warned the United States against future strikes on the Syrian government Wednesday in a tense start to talks between Secretary of State Rex Tillerson and Russian Foreign Minister Sergey Lavrov.
"We believe it is fundamentally important not to let these actions happen again," Lavrov said through a translator, calling the strike against the Assad regime ordered by President Donald Trump "very troubling."
Lavrov also made note of the Trump administration's mixed signals regarding its policy in Syria.
"I will be frank that we had a lot of questions regarding a lot of very ambiguous as well as contradictory ideas on a whole plethora of bilateral and international agenda coming from Washington," Lavrov said.
Tillerson, meanwhile, opened the talks by saying he hoped the two countries could find "areas of common objectives, areas of common interests, even when our tactical approaches may be different," CNN reported. 
Tillerson had been expected to discuss Ukraine, NATO, Iran and Syria during his visit to Moscow, but the U.S. strike against a Syrian air base Thursday — which Russian President Vladimir Putin denounced as an act of "aggression against a sovereign state" — loomed large over the meeting between the two diplomats Wednesday. 
Before heading to Russia, Tillerson said that "the reign of the Assad family is coming to an end" in Syria and that Putin's government had a choice to make: join the U.S. and its allies and play an "important role" in Middle East talks, or continue to side with the Syrian government against what he said were the Kremlin's long term interests.
Putin is not expected to meet with Tillerson while he is in Moscow.