Melania Trump "Escort" Lawsuit Update: 'Daily Mail' settles for $2.9 million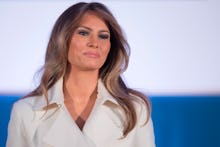 The Daily Mail will pay first lady Melania Trump $2.9 million in costs and damages to settle a libel lawsuit she filed after the tabloid published false allegations about her modeling career, CNN reported.
"We accept that these allegations about Mrs. Trump are not true and we retract and withdraw them. We apologize to Mrs. Trump for any distress that our publication caused her," the Daily Mail and Mail Online said in a statement. 
Trump filed suits against the Mail Online and the Daily Mail after an article falsely claimed she had worked for an escort service.
That article, Trump's lawyers argued, hurt her chance to establish "multimillion-dollar business relationships" during her years as "one of the most photographed women in the world" — implying, to some, that Trump planned to profit from her time as first lady.
"There has never been a first lady of the United States who insinuated that she intended to make a lot of money because of the 'once-in-a-lifetime' opportunity of being first lady," Richard Painter, who was a White House ethics counsel under former President George W. Bush, told the Washington Post in February.
Representatives to Trump did not comment on the settlement to CNN on Wednesday morning.
The libel settlement comes after President Donald Trump has suggested "open[ing] up those libel laws" as part of his frequent attacks on the media, most recently in a March 30 tweet about the "failing" New York Times, which he said had "disgraced the media world" and gotten him wrong for two years.