Nintendo Direct April 2017 Livestream: Where to watch the 'Splatoon 2' and 'Arms' news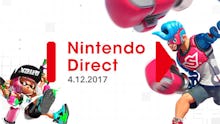 The April 2017 Nintendo Direct is finally here and you can watch it live online for free. Nintendo announced this event on April 10, Switch fans (those lucky enough to own the console, at least) will be given details regarding upcoming games for the platform. It's unclear what exactly what the April 2017 Nintendo Direct has scheduled for fans, but we can tell you it'll be a lot of Arms and a lot of Splatoon.
Nintendo Direct April 2017 livestream: How to watch?
The Nintendo Direct will go live on April 12 at 6 p.m. Eastern, according to Nintendo. Here's the video you can tune into during go time. 
If you're looking to watch live, you can also visit Nintendo's YouTube channel or Twitch channel. Both have video up right now that you can bookmark and come back to. Check it out here and here.
Nintendo Direct April 2017 livestream: What to expect
As usual with these kinds of events, we're forced to wait and see what Nintendo will bring us. We do know one thing: Splatoon 2 and Arms will be featured quite prominently during the showcase. 
Nintendo Switch owners, us included, may have played Splatoon 2 during the open beta back in March. We can expect to hear more of what we know and (hopefully) with additional details regarding the game coming this summer.
Arms is expected to come out before summer 2017. With no official release date aside from the vague "spring," Nintendo can be expected to announce a launch date. If only because it's literally spring right now.
Stay tuned! 
Check out more Nintendo Switch news and coverage
Looking for more Nintendo Switch news? Check out how blind gamers are using the Nintendo Switch. Nintendo's left Joy-Con issue turns out to be a hardware problem — find out how to solve it. Find out how to buy a console amidst the recent restock. Learn why the Switch cartridges taste so bad. Check out our comparison photos sizing up the Switch to the Wii U GamePad (part one and part two), or find out how to make use of ethernet without the dock and the best way to get alerts when new stock arrives.