'What Happened, Miss Simone?': 3 ways the singer influenced music and social justice today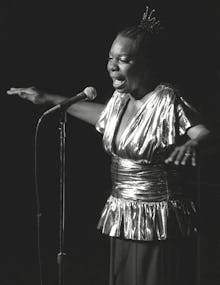 The late jazz musician and activist Nina Simone, aka the High Priestess of Soul, is widely celebrated as a musical genius today. Although she's been posthumously recognized for her catalog and her civil rights work, Simone felt misunderstood for much of her life. The 2015 Netflix film What Happened, Miss Simone? documents the highs and lows of her career and personal life leading up to her death on April 21, 2003, in Carry-le-Rouet, France. 
Looking back, Simone's work served as a major influence on conversations surrounding the music industry and on social justice movements today. Here are three ways the documentary revealed Simone's impact in these spaces.
Overcoming obstacles as a black woman in music
Born in Tryon, North Carolina, Simone became known as a prodigy at the age of three for her ability to play songs by ear on the piano, the documentary details. She further groomed her talents by studying classical music, which included a stint at Juilliard for a year and a half. Later on, Simone wanted to continue her education, so she applied to the Curtis Institute of Music in Philadelphia, but was rejected. In a recording featured in the film, she described realizing that she was rejected because she was black. She was never able to get over how racism affected her opportunity to advance as a musician at the time. 
Despite the setback early in her career, Nina went on to record more than a dozen albums, as well as a cover of "I Loves You Porgy," which was a top 20 hit. Simone is remembered for bridging her classical style of playing the piano with other influences, such as blues, jazz and spirituals. Her music inspired contemporary musicians such as Alicia Keys and Kanye West. The rapper has sampled several of her songs in his production work. 
Using entertainment as a change agent
Simone used her platform to express her heartaches over witnessing racial injustices during the civil rights movement. The documentary highlights how the singer became one of the few popular artists to speak out during this era.
"How can you be an artist and not reflect the times?" she once asked. Her famous protest song "Mississippi Goddam," released in 1964, was written after the assassination of Medgar Evers in Mississippi and the 16th Street church bombing in Birmingham, Alabama which killed four black girls. 
But the singer also paid for her decision to become more outspoken, according to What Happened, Miss Simone? As Nina became more political in her message and performances, it became harder for her to book concerts, as well as appearances on prime-time television shows. This stifled her career. She was punished for being herself, her daughter Lisa Celeste Stroud said in the film. 
In present times, many popular figures in sports and entertainment — Beyoncé and NFL's Colin Kaepernick — have faced backlash for using their platforms to be vocal against racism. But unlike Simone, these figures have been able to maintain their influence. For example, Beyoncé still sold out shows on her Formation World Tour, and military veterans showed love for Kapernick's decision to kneel during the national anthem. 
A lesson on self-preservation
The documentary also illustrates the dark side of how Simone's music career and social justice work took a huge toll on her emotional health. Early in her career, Simone complained of being overworked by her husband and manager, Andrew Stroud. Despite the burnout, she continued to perform. When not on the road, she was a victim of domestic violence. Simone began to internalize the pain and became abusive herself. Later on in her life, when she became involved in social justice work, her rage took another toll on her. Simone sacrificed much of what was left of her sanity for the cause. The film showed passages from her diary, in which she described becoming suicidal. 
The details of Simone's emotional spiral is a lesson on self-preservation for musicians at the heights of their careers. This is also important for activists presently involved in various social justice movements, who are now making self-care part of their routines.
Mic has ongoing music coverage. Please follow our music hub here.