The sculptor behind the Charging Bull statue is mad as hell about Fearless Girl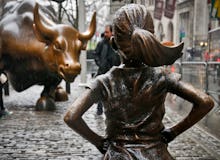 Arturo Di Modica, the artist behind the iconic Charging Bull in New York City's Financial District, has some harsh words for his sculpture's new competition.
According to the Guardian, the Italian sculptor has hired lawyers from the New York Civil Liberties Union to take legal action against New York City officials he says are guilty of copyright infringement for planting Fearless Girl across from his work without his permission. Di Modica is also demanding officials release documents showing what protocol they followed when extending the statue's display to February 2018. 
Mayor Bill de Blasio announced in March that Fearless Girl — initially erected for International Women's Day by artist Kristen Visbal — would have a longer stay in the city. 
"In her short time here, the Fearless Girl has fueled powerful conversations about women in leadership and inspired so many," de Blasio said, according to the New York Daily News. "Now, she'll be asserting herself and affirming her strength even after her temporary permit expires — a fitting path for a girl who refuses to quit."
Di Modica is challenging the integrity of the statue's message, which he said is degraded by its corporate ties.
He called Fearless Girl, sponsored by Boston investment firm State Street Global Advisors and New York advertising company McCann, nothing more than an "advertising trick."
He isn't the first to critique the use of Fearless Girl as a feminist symbol. In an op-ed for the Guardian, writer Cara Marsh Sheffler declared that the statue represented "what's wrong with feminism today," charging it with perpetuating a smarmy brand of lean-in feminism. 
"It's really hard to take on Wall Street when you're funded by Wall Street," Sheffler wrote. "That's something Fearless Girl is sure to find out, once she turns into Fearless Woman and actually starts rocking the boat."
Still, whatever problems Fearless Girl has with feminism, the optics of a man fighting to tear a statue of a small girl standing opposite an angry bull aren't great.