Donald Trump lifts his federal hiring freeze as agencies look at cutting the bottom line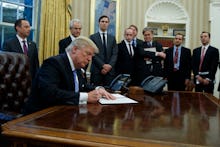 The Trump administration is lifting the federal hiring freeze the new president imposed immediately after taking office in January.
White House budget director Mick Mulvaney said the broad freeze, which lifts Wednesday, will be replaced with a "smarter plan, a more strategic plan, a more surgical plan," NPR reported.
Military jobs and roles essential to national security and public safety were among the many exemptions from the freeze, which President Donald Trump instituted by executive order.
The main point is not to blindly shrink the size of the federal government, but instead cutting costs by making it more efficient, Mulvaney and Team Trump have said.
"The federal workforce has expanded significantly during the last two administrations, from approximately 1.8 million federal civilian employees during the Clinton administration to approximately 2.1 million as of 2016," the White House said in rolling out the freeze.
Agencies originally had 90 days to submit preliminary plans for belt-tightening, but that timeframe now extends to June, the Wall Street Journal reported.
Trump has frequently talked about slashing regulations and government spending since taking office, although his personal spending on presidential travel, including to his Florida estate of Mar-a-Lago, has raised eyebrows.
Despite the freeze, the Associated Press noted, the federal government added 6,000 jobs in January and February. Defense spending is slated to increase under Trump, while social service spending, such as funding that states have used for programs like Meals on Wheels, have been targeted for cuts.
Other agencies, however, could see a new influx of cash amid the government's promised slashing of red tape. Among them: the Department of Veterans Affairs.
"Trump's budget blueprint calls for a 6% increase in VA funding, mostly to pay for rising health costs to treat veterans," the AP reported. 
Federal agencies have until September to finalize their plans and present them to Trump.