Video of Nandi Cain Jr. getting beaten by Sacramento police officer prompts investigation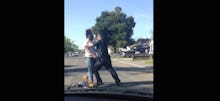 Bystander footage showing a Sacramento, California, police officer slamming Nandi Cain Jr. — a black man — to the ground and punching him repeatedly in the face during a jaywalking stop on Monday has prompted an internal investigation, the Sacramento Police Department said in a statement.
"The actions of the involved Sacramento police officer are disturbing and [do] not appear to be reasonable based upon the circumstances," the statement read. "The Sacramento Police Department holds itself to the highest professional standard and the actions that were observed are not indicative of the dedicated women and men who work for the department."
Naomi Montaie, the local woman who recorded the incident with her cellphone camera and posted it on Facebook, told reporters that she had never seen anything quite like it.
"I never witnessed anything like that," Montaie told Fox 40. The officer "just kept hitting him, and kept hitting him, and I was like, 'Oh, my God ... why you hitting him like that? Why you hitting him like that? You need to stop hitting him.'"
Montaie's video begins as Cain and the unnamed officer — a two-year veteran of the force, who appears to be white — are standing face-to-face at the intersection of Cypress Street and Grand Avenue in the Del Paso neighborhood of North Sacramento. Their conversation is inaudible, but Cain can be seen taking off his jacket and dropping it to the ground, which he later explained he did to show the officer he was unarmed.
"I took my jacket off," Cain told FOX40 reporter Joe Khalil. "I said, 'I don't have anything. I'm unarmed, what are you talking about?'"
Within a few seconds, the officer is seen lunging at Cain, grabbing him by the throat and throwing him to the ground. Cain does not appear to resist as the officer mashes his head into the concrete and punches him in the face multiple times. A few seconds later — as the officer is seen twisting Cain's right arm to a nearly-vertical angle while he is lying on his stomach — another officer enters the frame. Together, they handcuff Cain. Other officers soon arrive on the scene, and eventually seven police can be seen standing over Cain's prone body.
Footage from the officer's dashboard camera appears to confirm that Cain had been stopped for jaywalking, and that Cain removed his jacket to show the officer he didn't have a weapon. 
The officer can be heard repeatedly threatening to "take [Cain] to the ground" if he continues walking away from him.
"Stop right now before I take you to the ground," the officer tells Cain. "If you do not stop right now, I will take you to the ground."
In their statement, the Sacramento police said that the officer is on paid administrative leave pending concurrent administrative and criminal investigations. The findings of these investigations will be presented to the Sacramento County District Attorney's office for review once they are completed. The department added that it released Nandi Cain at 2:30 a.m. Tuesday morning after dropping all criminal charges. He'd been charged with resisting arrest.
Instances of police brutality against black civilians have sparked nationwide protests in recent years, while allegations of misconduct have led to 25 investigations into local police departments by the United States Department of Justice between 2009 and 2016 alone. These investigations have, in turn, produced damning reports highlighting patterns of racist and excessively violent conduct by police in Chicago, Baltimore and Ferguson, Missouri. But rarely have any of these cases led to criminal convictions for the officers involved.