ICE is suspending "sanctuary cities" reports because they are riddled with errors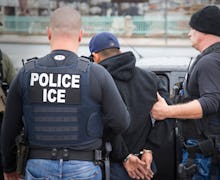 Immigration and Customs Enforcement has decided to stop complying with part of President Donald Trump's executive order on so-called "sanctuary cities," according to a report from NBC News. 
The reason? They just can't get it right.
In most sanctuary cities, local police departments have a stated policy of not complying with ICE "detainers" or requests from the federal government for undocumented people who are in police custody.  
Under the executive order, ICE is required to release weekly reports on the jurisdictions that do not cooperate with ICE in detaining undocumented people. Those reports listed the number of detainers for undocumented immigrants that local police departments refused to comply with, as well as the alleged crimes that those undocumented people were being held for.
But in just the first few rounds of reporting, which only began mid-March, ICE routinely released inaccurate information about which counties were refusing to comply and why. 
In one report alone, the list of corrections is extensive: 
Due to a data processing error, the Jan. 28 - Feb 03, 2017 Declined Detainer Outcome Report incorrectly attributed issued detainers to Franklin County, Iowa; Franklin County, New York; Franklin County, Pennsylvania; and Montgomery County, Iowa that were in fact issued to agencies outside of the respective county's jurisdiction in similarly named locations. Additionally, detainers that appeared as being declined by Williamson County, Texas, and Bastrop County, Texas, were cases where the individual was transferred to another facility where they were released. Finally, detainers appeared as being declined by Chester County, Pennsylvania, and Richmond County, North Carolina, when those detainers were incorrectly issued to those locations. The subjects of those detainers were in different locations.
The reports by ICE are designed to shame local officials in sanctuary cities by publishing the crimes of individuals who local law enforcement did not turn over to ICE. But many local officials in cities across the country argue that Trump's sanctuary city policies actually hinder attempts to combat crime by making undocumented people afraid of reporting things to the police. 
Now those officials will have to deal with the added burden of knowing that the information ICE is releasing about their jurisdictions may not even be correct.