'RHONY' Season 9, Episode 2 Recap: Meet the newest Real Housewife, Tinsley Mortimer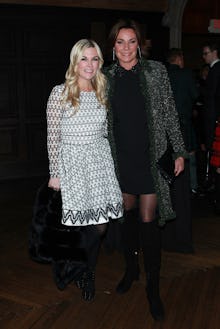 Now that season nine of the Real Housewives of New York City is off and running, we can meet the newest Real Housewife: Tinsley Mortimer. 
In addition to being the most recent member joining to the cast, Tinsley also has the honor of being Sonja Morgan's latest houseguest. RHONY actually isn't Tinsley's first go at reality TV. She had her own show called High Society that lasted eight episodes on The CW. 
Welcome to reality TV heaven, Tinsley and, please, try to be more than a one-season wonder. 
In season nine, episode two, we kick things off with Ramona Singer, Bethenny Frankel and Carole Radziwill getting together at Bethenny's pad to catch up. This is the first time in months Ramona has seen Bethenny, and she makes sure to remind her several times. The two haven't hung out since they ran into each other in the Hamptons over the summer, and it's rubbing Ramona the wrong way. 
In classic Singer Stinger style, Ramona comes barreling into Bethenny's apartment. She refuses to take off her shoes after Bethenny asks her, since Bethenny is worried someone could injure one of her puppies. Ramona says puppies, like babies, are resilient so it's OK. The softer, season seven and season eight Ramona is now gone and this is the old, early RHONY Ramona at her best and worst.  
The women then move onto the topic of Tinsley. Ramona is continuing to moonlight as a detective this season and she tells the girls she's already Googled her and knows about her sketchy past. 
The conversation then quickly changes to Carole's election night party and everyone is invited, but the other women aren't sure they want to go. Carole is invested in the results and headlines of the election, but her obsession is rubbing some of them the wrong way. "I don't mean to be judgy, I just can't hold a conversation with someone who thinks what she reads in a Facebook comment is actual news," Carole says about Ramona after the two get into a brief spat. 
We then take a visit to Sonja's townhouse. With Tinsley settling in, the two look right at home. Much to her credit, Tinsley gets the elephant out of the room pretty quickly. Yes, she was arrested for trespassing on her ex's property. According to her, he had a trespassing warrant out for her that she was unaware of when she returned to his place one day to retrieve her purse. 
She addresses her mug shot too. "The mug shot was so embarrassing," she says. My eyebrows look crazy, but at least I had my lashes on." Tinsley, you'll fit right in with these ladies.  
Living with Sonja appears to be ridiculous and fitting for her as imagined. Sonja wants to help Tinsley get back on her feet. So, what's the first thing on the list? Helping her find a man, of course. While Sonja attempts to play matchmaker, Tinsley gives us a look into her socialite past. According to her, she decided to curl her hair one day and then instantly became an "it girl" on the red carpet. "I just want my life back," she says. Tinsley, like her housemother, seems a bit stuck in the past. 
At the doctor's office, Ramona meets Dorinda, who is there for a cryotherapy session. Lunch, dinner, drinks, cryotherapy — you know, just another day in New York. The two discuss Tom and Luann, and Ramona says she done investigating their relationship. 
If you are new to the women of New York, especially Ramona, her comment after telling Dorinda she's going to stop talking about Luann and Tom is so quintessentially her. Different strokes for different folks," she says. "Maybe he's a really a really big flirt and likes sticking his tongue down people's throats. And she'll just pretend it doesn't happen because she really loves being with him."
Sonja is having a Mad Hatter-themed party, and we're not sure how it took nine seasons for her to have one, but it finally happened. Tinsley, who at this point might just be one of Sonja's interns masquerading as a Real Housewife, gets to meet Ramona, which is always a pleasure. One of Sonja's other guests also meets Ramona for the first time. Well, it's the first time for Ramona, who doesn't recognize her. "Are you Sonja's sister?" she asks. RHONY has always been the series that is really more about the comedic moments and this is a great example of that. 
At the party, none of her guests follow Sonja's request for them to show up in color except for Luann, Bethenny and a few others. Bethenny greets Tinsley with a simple "Hi, how are you?" although we wish it'd gone more like this:
Carole and Ramona continue their war over who knows the most about the election. Carole, who worked at ABC News for over 15 years, reminds Ramona how in the know she is. Ramona, who did not work at ABC News but who does have her own line of pinot grigio, doesn't care because she reads the paper every morning. 
Luann goes down the rabbit hole and confronts Sonja about talking to the press about her relationship with Tom. Luann reads her some headlines and Sonja brushes it all off, but it seems she's on the same page as Ramona and doesn't trust Tom. The two have it out and it seems settled — for now. 
You can catch an all-new episode of Real Housewives of New York City at 9 p.m. Eastern on Wednesday on Bravo. 
Mic has ongoing Real Housewives coverage. Please follow our main Real Housewives hub here.