What effect do immigrants have on the US economy? Report finds big economic opportunity.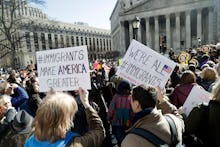 Immigrants bring "broad economic benefit" to America, according to an open letter a bipartisan group of 1,470 economists wrote to President Donald Trump and other United States leaders on Wednesday.
"As Congress and the Administration prepare to revisit our immigration laws, we write to express our broad consensus that immigration is one of America's significant competitive advantages in the global economy," the open letter read. "With the proper and necessary safeguards in place, immigration represents an opportunity rather than a threat to our economy and to American workers."
The letter comes as Trump, who rode xenophobic rhetoric all the way to the White House, seeks to make good on his immigration campaign promises, such as a travel ban on Muslim-majority countries and a border wall between the U.S. and Mexico.
The economists acknowledged that immigration comes with economic costs, "particularly for Americans in certain industries and Americans with lower levels of educational attainment." But it also brings to the U.S. entrepreneurs and young workers with diverse skill sets who are more likely to work in STEM fields — and that makes it all worth it.
"The benefits that immigration brings to society far outweigh their costs, and smart immigration policy could better maximize the benefits of immigration while reducing the costs," they wrote.
The letter was addressed to Trump, Senate Majority Leader Mitch McConnell, Senate Minority Leader Chuck Schumer, House Speaker Paul Ryan and House Minority Leader Nancy Pelosi. 
None of those addressed in the open letter appear to have responded as of Wednesday morning. 
Among the nearly 1,500 economists to sign off on the open letter were Obama administration economists such as Austan Goolsbee, Reagan administration economists like James C. Miller III and Nobel laureates, including 2016 laureate Oliver Hart.
They wrote that, while they have strong disagreements on a number of areas, they have "near universal agreement" on the value immigrants bring to the U.S. economy.
"We urge Congress to modernize our immigration system in a way that maximizes the opportunity immigration can bring, and reaffirms continuing the rich history of welcoming immigrants to the United States," they wrote.