Star Wars Battlefront 2' leaked trailer shows campaign, Darth Maul, 'The Last Jedi' heroes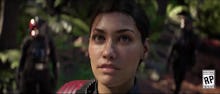 2015's Star Wars Battlefront looked fantastic, but it wasn't the deep multiplayer experience fans wanted. Large-scale, vehicular multiplayer skirmishes set within the popular Galactic Conquest meta-game were scrapped in favor of a game that felt like Battlefield for casual players.
Battlefront was a fine game in its own right, but the lack of a single player campaign left a bad taste in the mouths of some. But it sold well, so we're due for a — hopefully improved — sequel. 
Thanks to a trailer leaked on Tuesday, we now know what it will look like.
Star Wars Battlefront 2 leaked trailer: Campaign and The Last Jedi content
Kotaku snagged the trailer but as is the nature of leaked materials, it might disappear by the time you read this. In case that happens, here's a brief rundown of what's going on.
It starts with a brief glimpse into the game's single-player campaign, which is the major new feature on display. It appears to take place after Return of the Jedi and stars an unnamed woman. Whether it's a traditional campaign that follows one character, or a series of vignettes akin to Battlefield 1, remains to be seen.
After that, we get a bunch of typical Star Wars battle scenes, followed by brief appearances from Darth Maul, Rey and Kylo Ren. There's also a shot of Yoda's hand. Said appearances follow a text overlay saying, "fight multiplayer battles across all eras," which implies that they may be playable characters in multiplayer, rather than prominent figures in the single-player campaign. 
Finally, it ends by telling the viewer to preorder and get access to heroes from The Last Jedi. The other Battlefront games have let players occasionally step into the shoes of famous Star Wars characters during multiplayer battles to give their teams an advantage, and it doesn't look like this game is shying away from that.
Star Wars Battlefront 2 leaked trailer: What Star Wars Battlefront should have been
It's not a bombshell leak that defies expectations, but this trailer does show a game that's closer to what its 2015 predecessor should have been. The addition of a single-player campaign is nice, but we're hoping that Galactic Conquest mode makes a comeback, too. 
Star Wars Battlefront 2 comes out later in 2017, with rumored release on Xbox One, PlayStation 4 and PC.
More gaming news and updates
Check out the latest from Mic, including our deep dive into how female Overwatch players are dealing with online harassment, a cool making-of video for Legend of Zelda: Breath of the Wild and an article about what a Bechdel test for gaming might look like.