'Zelda: Breath of the Wild' 1.1.2 Update: Patch notes promise "pleasant gaming experience"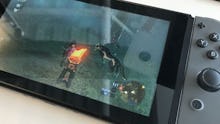 The Legend of Zelda: Breath of the Wild is known for being outstanding yet buggy. While many reviewers called the game a masterpiece, many reviews couldn't help but note lag while playing. Then Nintendo issued a Zelda: Breath of the Wild update. Version 1.1.1 brought vague improvements to the game. Nintendo's official Zelda update site lists no specific improvements to the game but our testing showed places like Korok Forest became a lot smoother while others exhibited even more slowdown. To remedy this, Nintendo has now issued the 1.1.2 update for Zelda: Breath of the Wild.
What's contained inside, you ask? Here are the very specific update notes Nintendo has provided us:
Version 1.1.2
• Adjustments have been made to make for a more pleasant gaming experience.
Zelda: Breath of the Wild 1.1.2 update: Why are patch notes so vague?
We'll never know why Nintendo chooses to keep its update patch notes so vague. Until the Japanese gaming company does get specific, we'll have to assume that Nintendo looked at trouble spots in Breath of the Wild and fixed them up as best they could.
Frustratingly mysterious patch notes aside, any update to Zelda: Breath of the Wild is a good one as the game continued to bug out when playing in our experience with 1.1.1. Instead of slowdown during hectic fights and when lots of elements were on screen, the game would, on occasion, straight-up stop for an entire second to gather itself. 
Interestingly, Reddit user Cardstatman, via xCursedHerox, notes that the patch addresses the infinite arrow farming glitch, used to max out your arrows. Players hoping to obtain added projectiles will have to do so the hard way.
These last two updates have been vague but there are two big updates for Zelda on the way: Breath of the Wild downloadable content coming this summer and during holiday 2017. Similar to version 1.1.2, Nintendo has been vague about what comes with these downloads as well. Though if the story provided in the Zelda DLC is as potent as the Breath of the Wild game itself, fans have much to look forward to.
Check out more Zelda: Breath of the Wild news and coverage
Find out all there is to know about Zelda: Breath of the Wild, including our running list of all the people of color in Hyrule. Learn how to preserve your items, how to beat bosses like the Stone Talus and Lynel, the best recipes for Link and how to take on the game's shrines. If you're looking to snag a giant horse with little stamina, here's how to do it. You'll also want to find out where all the great fairies are in the game, how to use amiibo with your version of Zelda and what went into making Breath of the Wild.