Milwaukee police are searching for man who cut, ripped hijab off Muslim woman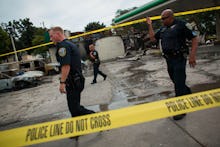 The Milwaukee Police Department is currently investigating a crime in which a Muslim woman was physically attacked while walking home from prayers. 
The woman — who asked to not be identified — told Fox 6 that a man pulled up his car next to her while she was walking home and told her to come to him.
"I said to myself, 'I am going to die today for sure,'" the woman said. "So he gets up from the car and told me to come here."
Then the man came to her demanding that she takes off her hijab, and the woman resisted.
"He said to take my hijab, my scarf," the woman said. "I tried to fight him. 'Don't take my hijab,' you know? So he threw me on the floor then he beat me like an animal."
The woman, who is in her late 50s, then told Fox 6 the attacker beat her on the sidewalk and repeatedly stepped on her head. He allegedly hurled profanities and called her names. She also said he took out a knife to cut her back and arm. There are blood stains on her hijab. After going home, she was sent to the hospital after having a seizure.
Members of the Muslim community are pressing for law enforcement to investigate the incident as a hate crime. Munjed Ahmad, a committee member of the Islamic Society of Milwaukee, said it's clear that the attack was motivated by hate.
"Nothing was stolen," Ahmad told Fox 6. "There was no robbery. Her valuables remain with her. The only motive we can think of — because everything stayed with her and this individual went straight for her scarf — is a hate crime."
According to a statement released by the Islamic Society of Milwaukee, it has requested additional police patrols in their neighborhood.
"Certainly we're scared for our community members," Ahmad said. "As an Islamic community, we want to make sure our community is always safe. The initial reaction is shock."