What you need to know about the 2017 'Star Wars' Celebration in Orlando, Florida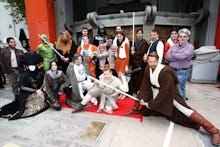 For hardcore Star Wars fans, everyday is a Star Wars celebration, but the official event taking place April 13 through 16 in Orlando, Florida, is something special. It's a four-day three-night non-stop party honoring the trilogy's 40th anniversary. 
The celebration will consist of a number of screenings, exhibits, interactive events, discussion panels and of course, the opportunity to buy commemorative memorabilia. Like any comprehensive Star Wars event, fans will need badges to access all the areas of entertainment, unless, that is, they can use the force to bamboozle the guards. 
How to participate in the Star Wars Celebration
The celebration is being held at the Orange County Convention Center in Orlando. Here's a comprehensive guide on the various ways you can get there. It's highly recommended you buy tickets ahead of time. Currently four-day adult passes are sold out, but there are still single-day adult and four-day and single-day child passes available. 
Star Wars Celebration guest stars
While there are a number of surprises on the docket that are being kept under wraps, Lucasfilm has announced a few exciting guests to tempt fans. Hayden Christensen, who played Anakin Skywalker in Star Wars: Attack of the Clones and Star Wars: Revenge of the Sith, will be on one of the panels for the first time since 2002. Some are speculating this means he might make an appearance in the upcoming Star Wars film The Last Jedi, but that remains to be seen. 
Christensen is far from the only star who will be in attendance. Mark Hamill, who played Luke Skywalker, will also be a part of a "tribute" panel, as well as C-3PO actor Anthony Daniels and Lando Carlrissian actor Billy Dee Williams. This is, after all, a big birthday for the series, and the first since the passing of one of its most beloved stars — Carrie Fisher. 
Star Wars: The Last Jedi
According to the Hollywood Reporter, the trailer for Star Wars: The Last Jedi is likely to premiere at the celebration as well. This was around the time Rogue One's trailer dropped, so it seems like a pretty safe bet. No doubt fans are hoping for some exclusive breaking news about the upcoming films like the Han Solo movie as well. 
Hopefully this year's Star Wars Celebration will live up to the hype, otherwise there might be another resistance uprising. 
Mic has ongoing Star Wars coverage. Check out our main Star Wars hub here.