Sean Spicer is still apologizing for those Holocaust remarks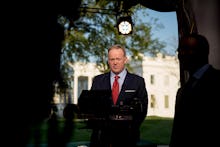 Sean Spicer's regret-a-thon continued into Wednesday as he used a Washington forum appearance to ask again for forgiveness for remarks he made about the Holocaust.
The White House press secretary generated a national outcry on Tuesday after saying during a discussion of United States military action in Syria that even Adolf Hitler had not used chemical weapons against his own people.
Spicer quickly tried to walk back the gaffe, made during a standard White House press briefing, to say he was indeed aware Hitler used poison gas to massacre prisoners in Nazi concentration camps.
After his verbal on-the-spot clarification, several written statements and yet another apology during a Tuesday appearance on CNN, Spicer had still more to say during a discussion with Greta Van Susteren during a forum on the First Amendment and President Donald Trump's first 100 days in office.
"It's a very holy week for both the Jewish people and the Christian people. To make a gaffe and a mistake like this is inexcusable and reprehensible," Spicer said.
Spicer said it was painful to him to have made such an error, "because that obviously was not my intention." He had been trying to make a point about how sinister it was for Syrian President Bashar Assad to drop chemical agents on civilians, but ultimately admitted that "there's no comparing atrocity."
Spicer, whose stumble spurred House Democratic Leader Nancy Pelosi and others to condemn his performance and call for his ouster even as Trump loyalists defended him, continued:
Your job as the spokesperson is to help amplify the president's actions and accomplishments... When you're distracting from that message of accomplishment and your job is to be the exact opposite, on a professional level, it's disappointing, because I think I've let the president down.
The press secretary, who reportedly also apologized directly to Sheldon Adelson, a major Jewish donor to the Trump cause, said he had not discussed the matter directly with Trump as of Wednesday morning.
He refused to comment on other White House conversations he had about the blunder. "This was mine to own, mine to apologize for and mine to ask for forgiveness for," Spicer said.