Republicans win the Kansas special election, but both sides have something to worry about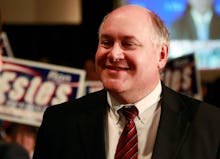 Republican Ron Estes will take the seat once held by CIA Director Mike Pompeo. He won the special election, which was seen as an early indication of how strong the potential backlash against President Donald Trump's historically unpopular presidency would be. And it was strong: Despite the fact that Trump won the district in November by 27 points and Pompeo won re-election by more than 30 points, Estes only managed to pull off a narrow single-digit victory against his populist challenger, Democrat James Thompson.
Estes won 52.5% of the vote, with Thompson taking 45.7%, according to the final results. The victory came only after the national Republican Party pulled out all the stops at the last minute for Estes, injecting his campaign with cash, dispatching Sen. Ted Cruz (R-Texas) and recording robocalls by both Trump and Vice President Mike Pence.
The narrow GOP victory in Kansas could be a sign of trouble for the GOP in next week's special election race in Georgia's 6th Congressional District, where Trump only won by a single point in the fall and where Democratic candidate Jon Ossoff has been galvanizing suburban Atlanta's anti-Trump vote.
Thompson, a Bernie Sanders-inspired first-time political candidate, managed to raise more individual contributions for his campaign than his Republican opponent, even though he was running in a district best known for being the home of the conservative billionaire Koch brothers' corporate empire.
While the national Republican Party flooded Estes with enough cash to outspend his opponent, the national Democratic Party did not provide any support to Thompson. Neither did the state: When Thompson turned to the Kansas State Democratic Party to ask for $20,000 for campaign mailers, he was rebuffed. The state party initially said it did not have the money to spare for Thompson's campaign, but eventually gave him $3,000.
All this has some Democrats worried that the party is failing to take seriously the power of outsider campaigns, like those of Sanders and Thompson — campaigns that have had unusual success in recent times for Democrats.
Democrats will have to grapple with the reality of this missed opportunity the next time they tell a young, politically motivated person upset with the system to go "run for something."
Highlights
Today: Secretary of State Rex Tillerson meets with Russian Foreign Minister Sergey Lavrov this morning.
More: Members of Congress are on recess and town halls are underway all week. Today's include Sen. Jerry Moran (R-Kan.) and red-state Democrats Sen. Claire McCaskill (D-Mo.) and Sen. Joe Manchin (D-W.Va.).
Even more: Georgia Democratic congressional candidate Jon Ossoff heads into the final stretch of his campaign with an interview on MSNBC in the 5 p.m. hour.
Trump's schedule: Trump will meet with House Judiciary Chairman Rep. Bob Goodlatte (R-Va.) before meeting and holding a joint press conference with NATO Secretary General Jens Stoltenberg.
The surveillance was real — and with probable cause 
A new report from the Washington Post claims that the FBI obtained a Foreign Intelligence Surveillance Act warrant to surveil Trump foreign policy adviser Carter Page on the grounds that he may have been operating as a foreign agent of the Russian government. According to the report, "The government's application for the surveillance order targeting Page included a lengthy declaration that laid out investigators' basis for believing that Page was an agent of the Russian government and knowingly engaged in clandestine intelligence activities on behalf of Moscow, officials said."
The Post's report is notable not only for its shocking allegation, but also because of the nature of the intelligence leaked. FISA court warrants are highly classified and it's very rare that the press learns about them or their subjects.
In recent weeks, the Trump administration has tried to distance itself from Page — possibly in anticipation of this revelation — claiming that he was some kind of "hanger-on" to the campaign. But when Trump announced the list of his campaign's foreign policy advisers in a March 2016 interview with the Washington Post, Carter Page was the second name on the list.
Watch for Trump to try and distance himself from Page even further in today's joint press conference with the Secretary General of NATO.
Trump throws Bannon under the bus
In a newly released interview with the New York Post, Trump threw some shade at his chief political strategist Steve Bannon, further fueling the speculation that Bannon and his cohort of alt-right ideologues inside the White House may be on their way out.
Asked if he still had confidence in Bannon, Trump told the Post, "I like Steve, but you have to remember he was not involved in my campaign until very late. I had already beaten all the senators and all the governors, and I didn't know Steve. I'm my own strategist and it wasn't like I was going to change strategies because I was facing crooked Hillary."
With the recent ouster of Bannon allies like K.T. McFarland from the National Security Council, it appears the Bannon faction is losing power inside the White House as the president's own family start to take on more important roles.
News and insight you cannot miss:
Donald Trump says "We're not going into Syria," but offers no further details (Mic)
The Anne Frank Center calls Sean Spicer a Holocaust denier, demands his firing (Mic)
Trump still can't move past Hillary Clinton, months into his erratic presidency (New York Daily News)
Nancy Pelosi says Donald Trump has to fire Sean Spicer for "downplaying" the Holocaust (Mic)
No, Ruth Bader Ginsburg did not just call Lindsey Graham a woman (Mic)