'The Handmaid's Tale' Review: Not all art is about Trump's America, but this show sure is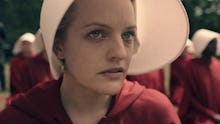 It's become an easy hook to talk about a piece of art's resonance in the current political climate. Arrival's globalist versus isolationist themes take on new power. La La Land becomes the movie that best represents Trump's America. Even TV itself is shifting, as shows like The Good Fight rewrite themselves to better reflect the mood of the moment.
This knee-jerk desire to relate what's happening in the world to what we're watching or hearing — regardless of authorial intent — has received some criticism, which is fair. While art is more important than ever right now, that doesn't mean all art is about Donald Trump and life with him as America's president.
However, The Handmaid's Tale is the most brutal take on Trump's America we have — and it's based on a book from 1985.
It's hardly novel to say Margaret Atwood's book — or Hulu's adaptation of the novel, which premieres in April — is an incidental referendum on Trump. Atwood herself has written at length about it and has attributed the book's boosted sales to the real estate mogul's election. Such an obvious comparison feels stale, the kind of obvious point that would have a culture writer scrambling for another angle.
But frankly, the comparison looms so large it's nigh impossible to not write about. The Handmaid's Tale is set in a future not far beyond our own, when a totalitarian regime has risen to the highest office after taking advantage of a power vacuum. The United States still exists, but only as controlled by the Gilead — Christian fundamentalists who strip women of power and agency, making many of them concubines or "handmaids" used for their fertility after an environmental disaster leaves many women unable to have children.
The more futuristic elements feel foreign; there's a lot of newspeak reflective of a shadowy regime, and it basically takes the entirety of the first episode to get in the groove if you haven't read the book. But upon getting acclimated — which Hulu is making easier by releasing the first three episodes simultaneously — the language's oddness gives way to the all-too-familiar feeling of the themes.
In The Handmaid's Tale, the Gilead rises to power amid a civil war between two deeply divided sides of the country. Women are considered "hosts" and are silenced when they attempt to speak out against men. Religion is part and parcel of government. The extremity of the circumstances is exaggerated, but the similarities between this world — written by Atwood in the '80s as a speculative dystopia — and ours are frightening.
The creators behind The Handmaid's Tale also seem spooked by the similarities. Star Elisabeth Moss, who plays protagonist Offred — stripped of her birth name and renamed as such because she is "Of Fred," her master — said the creative team "never wanted the show to be this relevant." Yet here we are.
As a television program, divorced from the show's cultural resonance, The Handmaid's Tale is remarkable. Moss is channelling every bit of the quiet fury she developed as Peggy Olson on Mad Men, infusing it with the frustration of a woman trapped between a desire to fight back and her own hopelessness. She gets some fantastic costars to play off of, including former Orange Is the New Black star Samira Wiley as Moira, her pre-Gilead friend, and a surprisingly great Alexis Bledel — fresh off her turn in Gilmore Girls: A Year in the Life — as the savvy Ofglen, her fellow handmaid.
The performances are great, but it's the direction that really makes The Handmaid's Tale captivating. Director Reed Morano does magnificent work making the Gilead-dominated society feel as suffocating as it is for the women who inhabit it. The gray color scheme gives everything a bleak feel, which makes the flashes to Offred's more colorful past feel like coming up for air. It's deeply significant that Morano, a woman, is the guiding hand for these first three episodes: There are insights, both textually and visually, that feel learned from experience versus merely adapted from Atwood's text.
There's so many reasons to recommend The Handmaid's Tale, and there still would have been had Hillary Clinton won the presidency in November. No matter what's happening in the real world, this would be a great TV series.
But Clinton is not president. Trump, a man who admitted on tape to sexually assaulting women, is president. The United States is changing, in many ways that feel unfriendly and unfair to women. That makes The Handmaid's Tale not just a coincidental allegory, but required viewing in Trump's America.
The first three episodes of The Handmaid's Tale debut on Hulu on April 26.
Mic has ongoing TV coverage. Follow Mic's main TV hub here.