Tupac Shakur was arrested in LA — but it's not the conspiracy theory you might think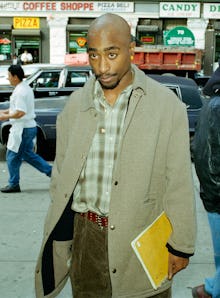 If you are looking for a brand-new Tupac Shakur conspiracy theory to sink your teeth into, TMZ is reporting the rapper was arrested in March. Well, sort of. 
According to TMZ, a man under the name of Tupac Shakur was arrested for assault with a deadly weapon. It is possible for someone else to have his exact name, and that's the case here, but the details here are too similar. 
For the conspiracy theorists out there, get ready for all the details to give you some brief joy. The man arrested, who goes by the name Tupac Amaru Shakur, also has the same birthdate as the rapper: June 16, 1971. 
We're sorry to burst your bubble, but the police told TMZ that the individual's real name is not Tupac Shakur. His birth name is Clarence Campbell, but he uses the rapper's full name an alias, which makes total sense to us. 
This wasn't the first time Tupac, sorry, Clarence, has been arrested. In his previous arrests, he also used the rapper's name, according to TMZ. 
This news comes just after Tupac Shakur was inducted into the Rock & Roll Hall of Fame on April 7. His friend Snoop Dogg inducted the rapper and shared some kind words on his legacy. 
"You will always be the best," Snoop said. "You will live on forever. Legends always do. They can't take this away from you, homie. I love you, Tupac. Welcome to the Rock & Roll Hall of Fame."
Much like conspiracy theories that he is still alive, Tupac Shakur's legacy will live on.
Mic has ongoing music coverage. Please follow our main music hub here.