'GTA Online' Money Cheat: Hackers use 'GTA 5' mod to steal money from players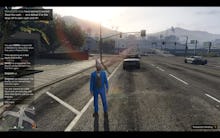 Grand Theft Auto Online is full of glitches and exploits that you can use to make money (or just goof around), but players have recently discovered something much more insidious in PlayStation 3, Xbox 360 and PC versions of the game. Apparently, hackers are using an exploit to deprive players of money and manually change their rank remotely — which can get you banned.
GTA Online money cheat: Hackers could get your account banned
According to Kotaku, GTA Online players using a PC or a last-gen console (Playstation 3 or Xbox 360) have reported hackers on public servers using mod menus to drain massive amounts of money from other players' bank accounts and giving them huge amounts of ill-gotten reputation points while doing so. 
The issue here is twofold: Hackers can drain your digital bank account without you being able to do anything about it, and having your Reputation level beefed up so quickly could get your account banned (instead of the hacker).
Jack k on YouTube has a video up detailing what this hack looks like:
Unfortunately, mod menus represent a significant step up in hackers' ability to do things like this. Previously, hackers in GTA Online were limited to things like money drops and spawning in rare vehicles, but mod menus have exponentially increased their ability to mess with the game. Hacks like the aforementioned money exploit are incredibly easy to add to mod menus, so it could potentially lead to widespread use of similar hacks.
Thankfully, it doesn't seem like the exploit is that ubiquitous yet. Rockstar is aware of the glitch and is taking steps to stop it while it's in its nascent stages. Until they fix the issue, however, you're probably better off avoiding GTA Online if you play on the PC, PS3 or Xbox 360.
More GTA Online tips and tricks
Check out Mic's GTA Online guides on how to buy Shark Cards, get rich without buying Shark Cards, run an auto theft ring, buy and sell property, increase your strength stat, treat yourself to plastic surgery and how to kill the Insurgent, one of the most powerful vehicles in GTA Online.