Want a high-paying job? These US companies pay more than $150K a year on average.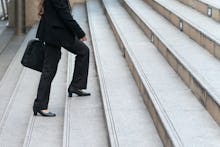 As you might expect, technology and consulting companies offer the fattest paychecks in the country, according to the latest survey of best-paying companies from employment site Glassdoor. The website pulled the salaries from anonymous reviews provided between March 2016 and March 2017. 
Companies had to have at least 50 self-reported salary numbers to be considered, and for each employer, Glassdoor calculated two median salaries, one for base pay and one that counted forms of pay like bonuses. 
In consulting, high pay is a result of a high barrier of entry, Glassdoor's chief economist, Andrew Chamberlain, wrote in a blog post about the survey. Consultants can have a wide array of expertise, but are expected to bring personal contacts and deep industry experience to the table. In technology, companies are paying out more and more to fight in the war for talent, given a dearth of qualified workers.
Just be forewarned: Bloomberg noted that employees at many of these companies also often complain about not having enough time to attend to their personal lives. So while the salaries may be high, you'd better be ready to work for it. (Better work-life balance can be found with these 15 jobs.)
Here are the top 15 companies for high compensation, in descending order. All of those in the top 10 pay more than $150,000 on average.
15. Synopsys
Synopsys makes a range of products for the technology industry, especially security testing. 
14. Dimension Data
Dimension Data works with companies like Microsoft, Cisco and Dell EMC to develop cloud infrastructure and other IT services.
13. Salesforce
Salesforce specializes in customer relations management: It makes products that help business owners communicate with clients. 
12. LinkedIn
Microsoft hired some pretty expensive employees when it acquired the company at the end of last year: LinkedIn workers make a median $150,000 per year, counting bonuses. 
11. Juniper Networks
Juniper is also a California-based software company with a focus on cyber security — noticing a theme here?
10. Amazon Lab126
Amazon Lab126 is the retail giant's Silicon Valley-based hardware wing which makes products like the Kindle and the Amazon Echo.
9. McKinsey & Company
McKinsey is one of the most prestigious consulting firms in the world, with more than 10,000 consultants. 
8. NVIDIA
The chip company rose to its heights during the boom in PC computing, but has more recently focused on artificial intelligence. 
7. Facebook
Facebook has a reputation for being a tough place to work, but the company is reportedly developing ways to improve employee work-life balance. 
6. Google
Median total compensation: $155,250
The pay is top-notch and the offices are gorgeous, but employees also complain about a hyper-competitive, insular culture. 
5. Cadence Design Systems
Median total compensation: $156,702
Cadence designs semiconductors and computer chips, among other products.
4. Splunk
Median total compensation: $161,010
Splunk is a software company with a mix of services in IT, cloud and application management. 
3. VMware
Median total compensation: $167,050
VMware is owned by Dell and makes cloud infrastructure and digital workspace technology. 
2. Strategy&
Median total compensation: $172,000
Strategy& is the in-house global management consulting wing of the giant PwC (formerly Booz and Company before a PwC acquisition).
1. A.T. Kearney
Median total compensation: $175,000
The fattest paychecks in the country, according to Glassdoor, are paid out by A.T. Kearney, a management consulting firm that works with more than three-quarters of Fortune Global 500 companies. 
Sign up for The Payoff — your weekly crash course on how to live your best financial life. Additionally, for all your burning money questions, check out Mic's credit, savings,career, investing and health care hubs for more information — that pays off.