The Kansas election offered Democrats some hope — but they're fighting each other about it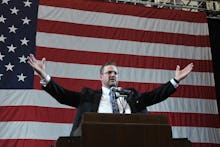 On Tuesday, voters in Kansas's 4th Congressional District went to the polls in a special election where a populist progressive Democratic candidate was within inches of winning a seat in Congress in a deep-red conservative district that hadn't elected a Democrat in over two decades. On that same day, the arm of the Democratic party that works to get Democrats elected to Congress was tweeting about stickers.
The stickers, though, weren't to benefit — or even support — James Thompson, who ended up over-performing in a deep red district. Instead, the Democratic Congressional Coordinating Committee, the national party's fundraising arm for House candidates, was tweeting stickers for Democrats who missed President Barack Obama.
It was difficult not to see the tweet advertising the stickers as a tone deaf move. In the era of President Donald Trump, Obama is old news. Trump's victory was supposed to be a wake-up call. His upset victory over Hillary Clinton surprised Democrats and spurred massive protests. Democrats promised to harness the energy and fight back. And yet as a Democrat mounted an improbably resonant challenge in the first test for voters' ill will toward a historically unpopular president, the national party was nowhere to be found. Thompson's campaign got no help from the DCCC.
"The Democratic Party argument is you have to pick your races carefully and not throw money away," said Howie Klein, a progressive record mogul who founded and runs the Blue America PAC and has been an outspoken critic of the DCCC for over a decade. "Well obviously last night there was no throwing any money away!"
When the special election was announced, after Trump created a vacated seat by selecting Rep. Mike Pompeo (R-Kan.) to be the director of the CIA, Democrats could be forgiven for thinking that the district might be a lost cause. Trump won Kansas's fourth by 27 points in November and the district hasn't elected a Democrat in over 20 years. 
Thompson was inspired to run by another improbably successful campaign: socialist Vermont Senator Bernie Sanders' 2016 presidential bid. Sanders had won Kansas during the Democratic primary race, galvanizing voters in the famously conservative state by playing to it's long-romanticized history of economic populism. After Trump's election, Democrats in Washington admitted that their party needed a new, more populist strategy, and Thompson was ready to take that strategy along with Trump's historic unpopularity and parlay it into a win for Democrats.
And his plan appeared to be working. Thompson managed to out-raise his opponents in individual campaign contributions and drive up Democratic turnout in early voting.
Party leaders, though, weren't willing to put their money where their mouths were. Thompson sought money from Kansas's State Democratic party, requesting $20,000 for mailers to raise awareness for his campaign. The state party turned him down, though eventually it gave Thompson just $3,000.
And Thompson received no money from the national party despite the fact that his opponent was being given cash infusions from national Republicans for a race in which they shouldn't have had to spend a dime.
"There are thousands of elections every year," DNC chair Tom Perez told the Washington Post. "Can we invest in all of them? That would require a major increase in funds."
Perez's point is not without some merit. There are four separate special elections for congressional seats in 2017, all of which are in states Trump won and all of which will need to be defended again in 2018.
Other Democrats said the DCCC entering in to the race would have actually hurt Thompson.
"ONLY way we can win a seat Trump won by 27 points is catch the GOP sleeping," tweeted Dana Houle, a sometime Democratic operative. "DCCC trundles in to that district, Repubs wake up & vote Repub."
Grassroots groups, however, felt those explanations were insufficient.
"The Democratic Party can no longer ignore districts that they consider 'safe' for Republicans," said Our Revolution, the progressive grassroots group that grew out of the Bernie Sanders campaign, in a statement to Mic. "The progressive grassroots has proven that they will show up — and we are steadfast in our belief that we can create a progressive America if millions of people stand up and fight back."
Our Revolution endorsed Thompson early on, and Sanders himself appeared at a Kansas fundraiser with the candidate.
Others critics of national Democrats were more direct with their criticism. Howie Klein, the record mogul who has been frustrated with the DCCC since the mid-2000s, said this was part of a larger pattern with the DCCC. Klein suggested the party abandoned Thompson because of his Sanders-like approach to politics.
"This is what they do and what they do everywhere," Klein said, claiming that the DCCC lost interest in the race as soon as Thompson beat the other candidates in the Democratic primary. "When Thompson won the primary, they said, 'Good enjoy your little funny game and screw you you're not getting anything from us.'"
National Democrats, however, have not chosen to ignore every upcoming special election. In the race to fill the Georgia seat vacated by Trump's Health and Human Services Secretary Tom Price, the DCCC has already donated money and campaign staff to Democratic candidate Jon Ossoff. That race, though, is being fought in an arguably more contestable district, where Hillary Clinton lost by only one percentage point in the fall. 
But Ossoff, unlike Thompson, is also a more conventional Democratic candidate running to attract less rural and more suburban voters, leaving some to wonder if the Democratic Party really has re-evaluated it's priorities since the fall. 
An answer may come in the next few months. In late May, voters go to the polls for a special election in Montana's at-large district, where another populist progressive candidate is trying to win over rural voters. So far, the DCCC has largely ignored the Montana race, where Rob Quist, a local country music figure, is going head-to-head with a Republican software engineer that just lost that state's 2016 gubernatorial race.
Thompson's near miss in Kansas — and the criticisms leveled at the national party — may yet give Democrats reason to reconsider investing in a Montana populist mounting a challenge in another red state.