Jordan Peele's 'Get Out' is now the highest-grossing film in the US by a black director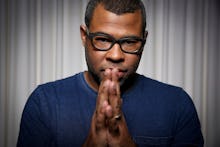 The wins keep coming for Jordan Peele, the comedian-turned-director whose debut film, Get Out, became a surprise hit when it was released Feb. 24 in theaters across the United States. 
Now, a month and a half later, Peele's horror-thriller has surpassed Straight Outta Compton (2015) to become the highest-grossing film ever at the domestic box office by a black director, raking in $163.3 million to Compton's 161.1 million, Shadow and Act reported.
This feat could provide a new roadmap for Hollywood, which rarely — if ever — features black leads in horror films. Get Out was made for $4.5 million, roughly 1/36 of what it's made back in the U.S. so far. It stars Daniel Kaluuya as Chris, a black photographer living in New York City who confronts sinister goings-on upstate when he visits the family home of his white girlfriend, Rose (Allison Williams), for the weekend.
Rounding out the top five highest-grossing black-directed films domestically are Scary Movie (2000), directed by Keenan Ivory Wayans; Fantastic Four (2005), by Tim Story; and Ride Along (2014), also by Tim Story — all of which had massive production budgets, comparatively. The book isn't closed on Get Out's global performance, either: The film has grossed $13.8 million at the foreign box office so far, but has yet to be released in South America and many large European markets, including France and Spain.
Peele has since announced that he plans to make four more similarly themed "social thrillers" over the next decade, though details regarding what they're about remain scarce. Meanwhile, he's being courted by Warner Bros. to helm the live-action remake of Akira, the legendary Japanese manga-turned-anime film.