Where and how to charge your phone at Coachella this weekend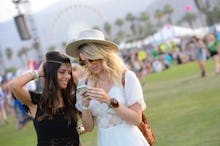 The music-charged annual festival that is Coachella is upon us, and if you're going, you're probably compiling a comprehensive list of which bands to hit as we speak. But what happens when said list, which is no doubt stored on your phone, becomes unreachable because your phone suddenly dies while you're waiting in line for the Port-O-Potties? 
Exactly. That simply can't happen. Not only will you need that phone to take selfies and grainy, zoomed-in stage pics while rocking out at all the kick-ass shows, what if you get lost on your way to the taco stand and miss Lady Gaga's opening number? How will you find your friends without Google Maps and texting and Snapchat? How did anyone survive before we had these handheld computers?!
Thankfully, you won't have to know that scary frustration, because Coachella has handy charging stations strategically placed around the festival grounds. It's one of those rare instances where technology appears to be on the side of good. 
How the charging stations work
Campers will have access to a main power hub opposite the activities tent. Power cubes will also be available at every camping lot. Here's a map of the charging stations (marked with a lightning bolt):
You should plan on bringing your own charger, or make sure someone in your group has one that you can share (and works with all your individual devices), because the festival will not provide them or have them for sale. It's also important to note that laptops, iPads and tablets are prohibited (as are hairdryers, so you'll have to embrace hippie hair this weekend). 
Once you're armed with your fully charged smartphone, you can access Coachella's Festival App, which is the most extensive festival guide you could want. It comes with all the necessary maps, vendor lists and up-to-date set times. You can even activate your wristband with it and receive notifications when your favorite band is about to perform. 
For those who want a more interactive experience, there's also a Virtual Reality/Augmented Reality app which allows you to explore the festival in 360-degree virtual reality, complete with fun filters and "Easter eggs" you can uncover. 
If you plan ahead, and pack appropriately, with all these tools at your disposal, you'll be set to have the time of your life, worry-free. 
Mic has ongoing music coverage. Follow our main music hub here.